Nora Fatehi Hot Photo #1
Nora Fatehi belongs to Moroccan lineage and finds her root in Indian ancestry, owing to her mother. However, she was born and brought up in Montreal, Quebec, Canada from where she commenced her education but was a dropout from Westview Centennial Secondary School, Toronto as she wanted to extend her modelling career.
Nora Fatehi Hot Photo #2
Everyone knows Nora Fatehi's heavenly dance skills which can mesmerize anyone with just a glimpse of it, but no one knows that the gorgeous diva and exquisite belly dancer has no formal dance training ever in her life, all the credit goes to her phenomenal observational skills and eidetic memory.
By observing typical and strenuous dance forms, she used to practice them by herself and became proficient and one of the best female dancers in India.
Nora Fatehi Hot Photo #3
Nora Fatehi and Guru Randhawa share a deep bond of friendship which is evident from their fun and humorous interviews, and the collaborative hit item songs they have produced like 'Naach Meri Rani' and 'Dance Meri Rani' under the banner of T-Series which became one of the most viewed videos on Youtube, with former almost crossing 700 million views on youtube and latter has almost crossed more than 60 million views in just two weeks.
Nora Fatehi Hot Photo #4
'Kusu Kusu' song from the recent release Satyameva Jayate 2 which starred John Abraham and Divya Khosla Kumar in the lead roles; had all our heart rates soared, owing to the breathtaking moves and blazing hot dance performance of Nora Fatehi.
But, very few people know the bruises and painful marks Nora had to endure in making the song exquisite, as she mentioned in an interview that the necklace and veil she had to wear for the song left her neck bruised and left dreadful marks. Moreover, this item song experiences a 'horrific nightmare'.
Nora Fatehi Hot Photo #5
The 29-year-old exhilarating diva has almost completed 7 years in the film industry and it all began with Kamal Sadanah's Roar: Tigers of the Sundarbans where she played the supporting role named 'CJ'. Though the movie was praised for its unique and peculiar concept but was unable to perform well at the box office.
However, Nora's performance was much appreciated by the fans who enjoyed the breath of fresh air in her beauty and divine looks.
Nora Fatehi Hot Photo #6
Despite beginning her career with a mainstream Bollywood film, Nora wasn't able to make her mark when it came to acting prowess, but her gratifying item numbers and nubile personality established her as the leading dancer and the first choice when it came to item numbers.
Her astounding dance performances aren't limited only to Bollywood, as she has charmed the audiences of even the Tamil, Telugu, and Malayalam film industries. Nora's most remarkable performance was seen in one of the highest-grossing Indian films Baahubali: The Beginning in the song titled 'Manohari'.
Nora Fatehi Hot Photo #7
While shooting for the war-period film Bhuj: The Pride of India, Nora got injured in a shot as one of the co-actor quite hardly put the gun on her forehead and when she tried to way away, the front of the gun hit her head and blood started gushing out, and she was immediately rushed to the hospitals by the makers.
However, liking the authenticity of the mishap, the director kept the shot for the final cut, as it provided a nice touch. Furthermore, the movie also starred Ajay Devgn, Sanjay Dutt, and Sonakshi Sinha in the main roles.
CHECK OUT: Hot Photos of Saki Saki Star Nora Fatehi which left her fans stunned 2022
Nora Fatehi Hot Photo #8
Nora Fatehi has also appeared on various reality Tv shows like Bigg Boss 9 which was hosted by Salman Khan, she entered the house as the wild card contestant but could survive only for 25 days, moving on she also participated in the famous dance show Jhalak Dikhhla Jaa 9 but got eliminated and finished at 10th place.
She has also guest appeared on various other shows like MTV Troll Police, Top Model India, Dance Plus 4, Top Model India, and India's Best Dancer.
Nora Fatehi Hot Photo #9
Nora Fatehi is the only female artist hailing from African-Arab origin to ever feature on a dance video song titled 'Dilbar' which has crossed more than a billion views on Youtube. This feat has made her one of the most followed Indian celebrities on social media platforms and one of the most desirable women in the world.
She has more than 35 million followers on Instagram who adores her style and beauty quotient.
Nora Fatehi Hot Photo #10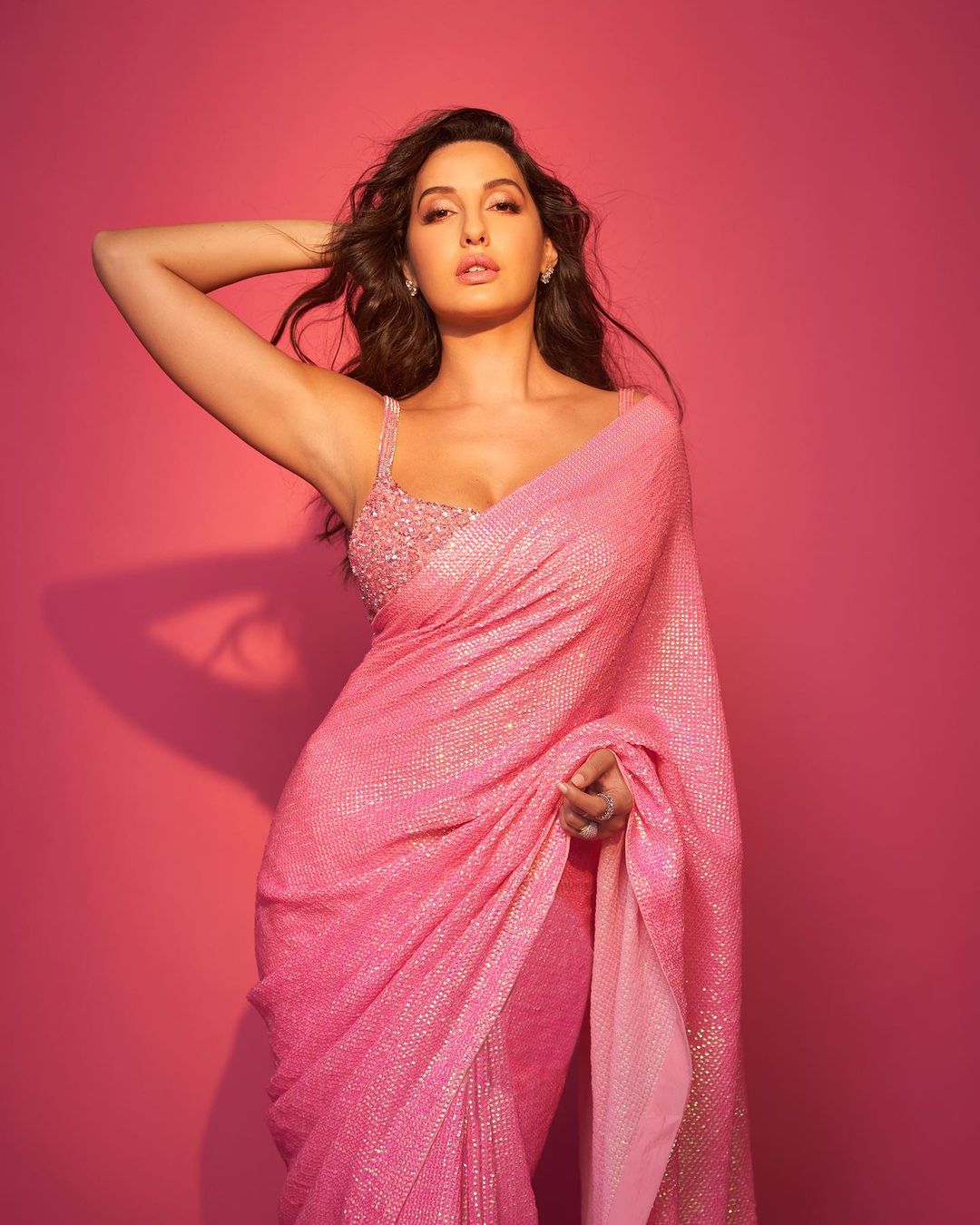 Nora Fatehi's modelling journey began under the talent management company named 'Orange Model Management' who gave her the contract and featured her in the ads of the top brands.
Since then the mesmeric diva has never looked back in her life and has featured on the cover pages of the leading magazine companies like Filmfare, Wow, Wedding Vows, Exhibit, and FHM.
Also Watch: One of the Most Desirable Women of the World, the Dazzling and ASTOUNDING Katrina Kaif. We bring you The Amazing Hot Photos of Katrina Kaif.