Do check out our post on times when Urfi Javed was trolled by trollers. Urfi Javed is a well-known television actress who is very active on Instagram Handle. She has over 2.5 Million followers on her Instagram handle. She is known for wearing some funny yet sexy outfits which always makes her the center of attention for fans and media.
Some of her clothes are revealing and funny that Urfi Javed gets mercilessly trolled by trollers for that. These troll comments on Urfi Javed Pictures and videos make us burst into laughter. So we are going to share some pictures which will make your day and who knows will make you burst into laughter.
Urfi Javed Mercellessly Trolled Picture #1
Urfi Javed was seen wearing a salwar suit, especially on the auspicious day of Holi. When everyone is out with some dry color in their hand and ready to scrub it into each other faces. Urfi Javed shares her picture wearing a salwar suit and you see the picture carefully you will mention that both ends of the salwar suit are attached with a thick rope that caught everyone's eyes. We bet it must have caught your eyes too. A troller saw it and he wrote that " Ek Dhaage Pe Itna Trust".
Urfi Javed Mercellessly Trolled Picture #2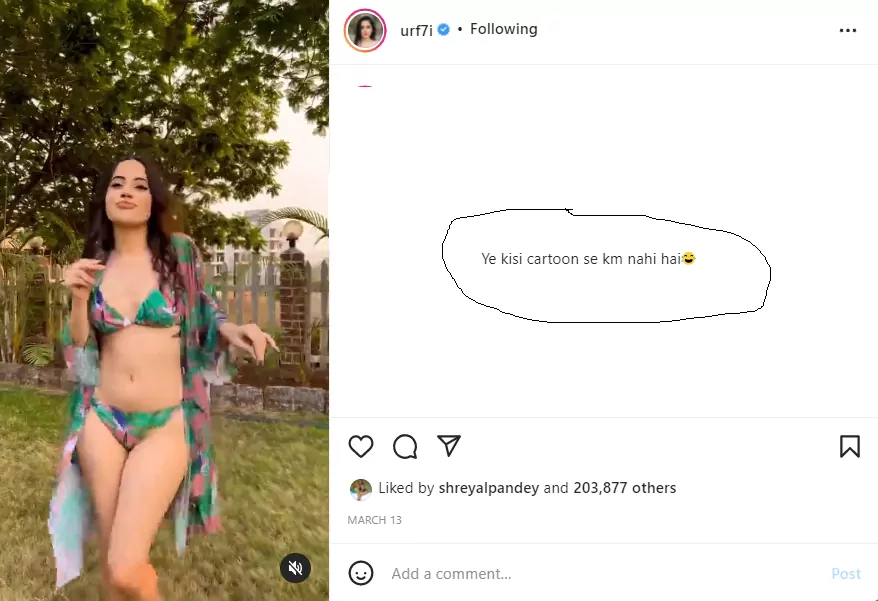 Recently Urfi Javed shared a video in which she was seen dancing on a hip hop beat and wearing a tropical bikini and she was seen chilling out. As soon as she uploaded this video a troller trolled Urfi with commenting and wrote that "Ye Kisi Cartoon se km Nahi hai" Overall it was very nice to see Urfi Javed in a bikini and see her dancing on hip hop beats. As Always she sets a soaring temperature.
Urfi Javed Mercellessly Trolled Picture #3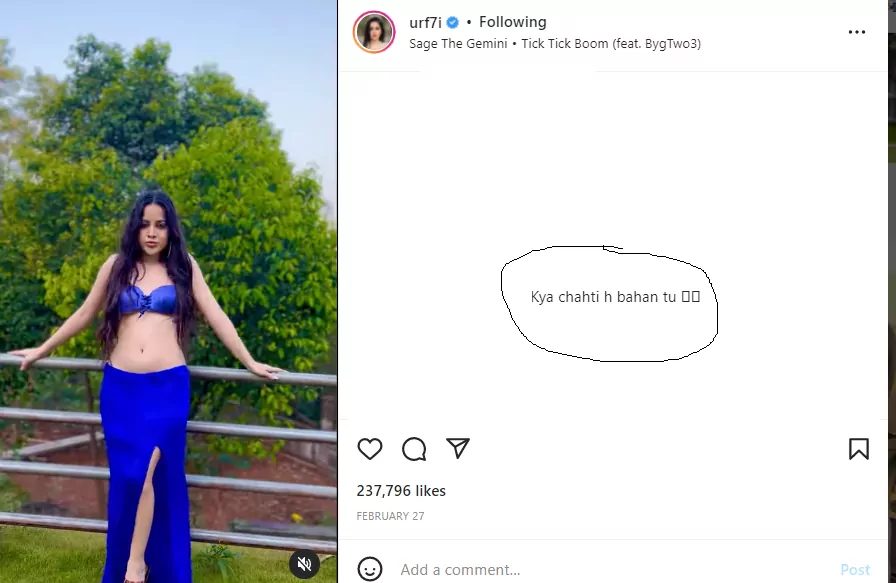 One of the Urfi Javed trolled pictures in which she was flaunting her long hair and walking for a few seconds and the cameraman was following her and her back was visible. It looks like when she was walking and flaunting her long hair she was walking bikini but as soon as she turned and pose at the cameraman everyone was stunned to see her in a blue bikini with a matching slit gown. She looks stunning in this hot blue outfit. One of the trollers couldn't stop himself and wrote "Kya Chahti h Bahan tu". After seeing this entire video and reading troller comments we bet many of the viewers burst into laughter.
Urfi Javed Mercellessly Trolled Picture #4
Another Picture of Urfi Javed getting trolled we are sharing with you is when she wears this very revealing outfit and is seen walking flaunting her hot-toned physique. One of the trollers wrote that Mam ap dookan badaldo wo apoko kapde nahi dete hai (with laughing emoji).
Urfi Javed Mercellessly Trolled Picture #5
Urfi Javed shared one more video on her Instagram handle in which she was wearing a sexy yet funny outfit and was walking down the stairs while talking to her friends. She slipped and her friend supported her to stand again. This video also got a lot of media attention and one of the trollers was unable to stop himself he trolled Urfi Javed by commenting on her video writing "Didi mere pass dher saare phate purane kapde ho gaye hai kya me aapko wo donate kardun" (with an emoji attached at the end of the sentence).
So above was 5 times when Urfi Javed was trolled by trollers and they passed comments which made the readers burst into laughter. We hope you like it and stay tuned for more such posts by Biographia.
For more exciting updates do checkout our Twitter Handle and dont forget to like, share and comment on our post.
Dont Miss: Scintillating and Hypnotic Hot Photos of Suman Rao | Femina Miss India 2019 & & Miss World 2019 2nd runner up