Manasa Varanasi Photo in Saree looks Pretty
Early Life of Manasa Varanasi Miss India 2020
Beautiful Manasa Varanasi was born in Hyderabad and her Parents are Telugu speakers. The name of the father is Ravi Sankar and her mother Shailaja. At a very young age, Manasa Varanasi was shifted to Malaysia as her father had to travel for work and she continued her schooling at Global Indian International School later completed her intermediate studies in India. Manasa Varanasi further studied computer science at Vasavi College of Engineering located in Hyderabad. So we can call Manasa Varanasi brain with beauty.
Gorgeous Manasa Varanasi photo in Saree looks Stunning
Before Manasa started walking the ramp she was working as Factset in an organization in Hyderabad. Manasa Varanasi's interest is music, dancing, and yoga. Apart from fulfilling her interest in various activities she also likes to do social welfare work. An example of this is when she volunteered at MAKE A DIFFERENCE a non-profit organization.
Journey of Manasa Varanasi from working in a corporate world to representing India in Miss World 2021
It all started when Manasa started walking a ramp was when she won a Miss Fresher title in the first year of college. Just like Harnaaz Sandhu bagged the Miss Universe 2021 title Manasa Varanasi sets goals to bring Miss World 2021 crown to India by winning it and to be called Miss World 2021 beauty Pageant.
Gorgeous Nari in Gorgeous Saree Manasa Varanasi Photo
In 2020 she was auditioned for the same title for Femina Miss India 2020 in which she represented her state of Telegana and eventually won the title Miss India 2020 Pagent and was crowned by Miss World 2019 2nd Runner Up Suman Rao at Hyatt Regency, Mumbai. A sub contest ceremony was held and Manasa won and earned herself a title 'Miss Rampwalk' award.
After winning she said the statement "Winning is out of one's hands — destiny, luck, the competition — they all have a say. The nerve-wracking thing about a contest such as this is that everything can change in an instant. So, while I am very proud of my achievement, I am also humbled and grateful that the stars aligned for me."
Manasa Varanasi Represented India at Miss World 2021
When it comes to representing the country at Miss World Pageantry. Manasa is not alone in the past Priyanka Chopra has won the Miss World beauty Pageant. Manasa Varanasi represented India at Miss World 2021 held on 16th March 2022 at Coca-Cola Music Hall, San Juan, Puerto Rico where she earned her place among the top 13 finalists.
Manasa Varanasi Photo: Perfect matching accessory for a saree is not jewelry but its Manasa Varanasi smile
Despite working hard and proving out to be a strong contender Manasa Varanasi was unable to earn that crowned but yet maintained an Indian Placement streak at Miss India 2021 Contest held in Puerto Rico. The winner of the Miss World 2021 contest was Karolina Bielawska.
Interesting Facts about Manasa Varanasi
Manasa fans are curious to know some of the unknown interesting facts about Manasa Varanasi
Though Manasa earned her name in the Industry by becoming Miss India 2020 Manasa lives a very simple lifestyle. Her Instagram pictures show her in a saree at a holy place. She lives a very simple and elegant life.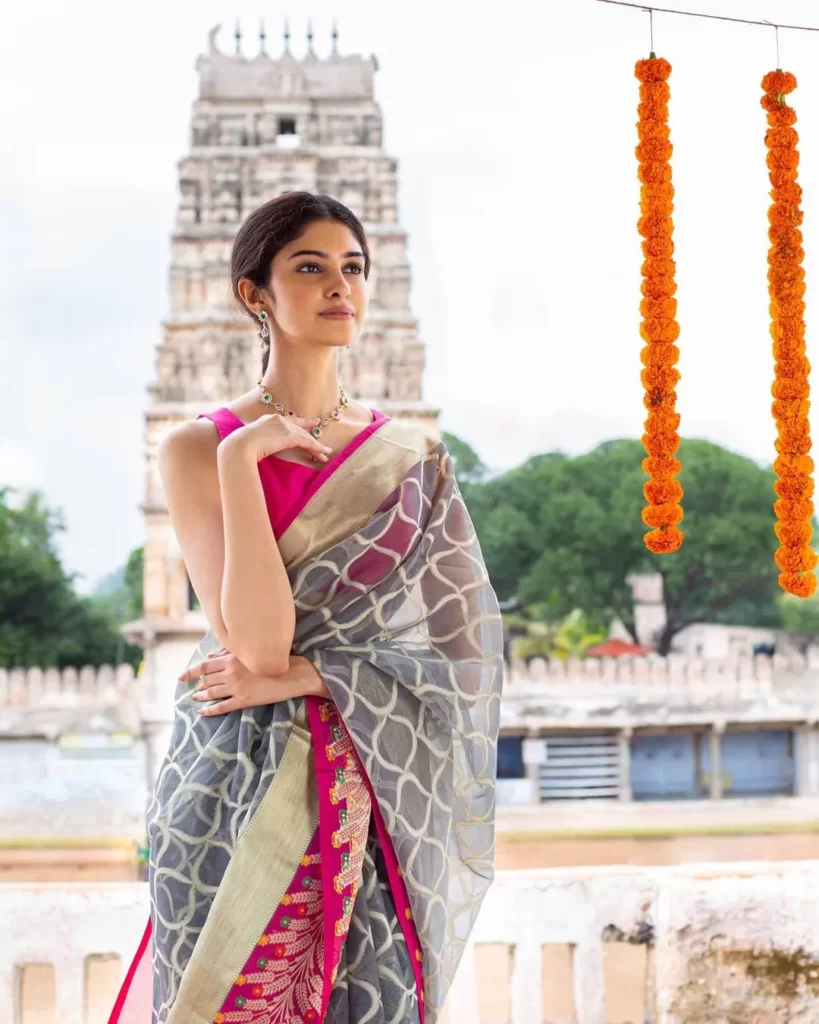 Gorgeous seen in saree. Manasa is a tresury house of hotness and beauty
Very fewer people knew that Manasa was quite shy from her birth but despite being shy she loves dancing, yoga, and many other activities. She loves being on stage. She loves music and listens to songs in her spare time. She is a trained Bharatanatyam dancer.
Manasa Varanasi is fond of reading a book. She likes to read books whenever she is traveling or sitting idle. One of her favorite books is The Little Prince.
Manasa is an avid dog lover and she has a dog named Ollie.
We have seen Manasa walking the ramp but many of you dont know that Manasa really works hard to maintain her svelte figure.
She is a fitness enthusiast and maintains a strict diet. Manasa Varanasi loves traveling. She believes in enjoying every moment of her life. She loves to travel wherever she gets an opportunity.
Manasa Varanasi Photos: She is an astonishingly charming natural beauty. Stay winning and stay being pretty.
Manasa Varanasi is influenced by three people in her life that is her grandmother, mother, and younger sister.
Manasa Varanasi is a die-hard fan of Priyanka Chopra and follows her and we all know that Priyanka is among the sexiest women of the decade and was crowned Miss India in the year 2000.
We all know women like pink color but this is not in the case of Manasa Varanasi. Her Favorite color of Manasa Varana is Red.
Manasa Varanasi Favorite food is Hyderabadi biryani and desserts are fruit pudding, Tiramisu, Rasmalai, and Nutella.
Dont Miss: Scintillating and Hypnotic Hot Photos of Suman Rao | Femina Miss India 2019 & & Miss World 2019 2nd runner up
Do check out our Twitter Handle for more updates and dont forget to like, share and comment on our post.
Do check out our Pinterest Handle for a more exciting photo collection.
OMG Never Seen Hot Bikini Photos of Anukreethy Vas left fans Awestruck (Miss Tamil Nadu 2018 and Miss India 2018)