About Carmen Electra
Carmen Electra's mesmerizing beauty is always a sight to behold, the way she carries her stunning personality has made her one of the most followed models in the fashion industry.
She began her career as a singer and released her debut album titled 'Carmen Electra' which was produced by the iconic singer Prince.
Electra's breakthrough performance was noticed in the American superhit drama series 'Baywatch' where she portrayed the popular character of Lani McKenzie. Her other notable movies are American Vampire, Scary Movie film series, Meet the Spartans, and Disaster Movie.
Her diva-like looks and glistering dressing sense has consolidated her as the 'Pop-Culture Icon' of America.
Biography of Carmen Electra
Name: Tara Leigh Patrick
Known As: Carmen Electra
Known For: Played the role of 'Lani McKenzie' in the superhit Tv series Baywatch
Date of Birth of Carmen Electra: 20 April 1972
Age of Carmen Electra: 49 Years (as of 2021)
Height of Carmen Electra: 160 cm, 1.60 m, 5'ft 2"in
Weight of Carmen Electra: 57 kg (126 lbs)
Body Measurements of Carmen Electra: 32-26-32
Eye Colour: Blue
Hair Colour: Light Brown
Zodiac Sign/Star Sign: Aries
Known Languages: English
Religion: Christian
Favourite Food: Sushi
Favourite Destination: Hawaii
Favourite Sport: Cycling
Hobbies: Solving Puzzles
Net Worth of Carmen Electra: $8 Million (approx.)
Marital Status: Divorced
Nationality: American
Birthplace: Sharonville, Ohio
Controversy of Carmen Electra
1. According to sources, a club named The Golden Banana in Peabody, Massachusetts, violated Carmen Electra's right of publicity where they used her identity for commercial purposes without her consent.
She filed an official complaint against the bar and initiated a legal battle that included other famous personalities as their rights were also violated by the establishment.
Interesting Facts about Carmen Electra
1. Electra's father Harry Patrick and her mother Patricia were also artists by profession. Her father was a guitarist whereas her mother was a singer.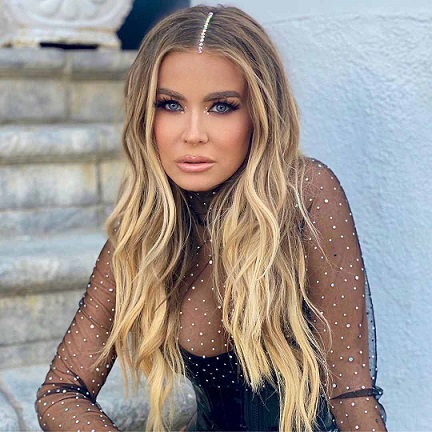 2. At the age of 26, Carmen saw her mother's demise due to brain cancer and soon her elder sister also passed after suffering a heart attack. These incidents left the actress in shock as her mother was her rock and her whole life used to revolve around her mother.
3. From an early age, she had a knack for acting, dancing and singing and always dreamt of dancing at Broadway.
4. After her short-lived singing career where she released her first and only titular song album 'Carmen Electra', she permanently changed her name from Tara Leigh Patrick to Carmen Electra.
5. Her acting career mostly consists of comedy horrors and parody films like Scary Movie, Date Movie, and Epic Movie. She was praised for her charming and bold performances in these movies and was regarded as the 'Sex Symbol' of Hollywood.
6. She has also featured in numerous Tv shows like All That Hollywood Squares, 'Til Death Do Us Part: Carmen and Dave, and Summerland.
7. Owing to her well-formed body and stupendous beauty, she had featured on the cover page of Playboy magazine and even modelled for the covers of the comic books Razor and the Ladies of London Night.
8. Apart from an actor, she is also an author known for her book titled How to Be Sexy.
9. She has an extinct species of fly to her name called Carmenelectra shechisme, owing to her beautiful body structure.
Quotes by Carmen Electra
1. No matter where I've been overseas, the food stinks, except in Italy.
2. You know criticism when you get into this business. You accept the bad with the good, the tabloids and the positive side of it.
3. I went to the Performing Arts School and studied classical ballet. That attitude is something that's put into your head. You are never thin enough.
4. If you don't have a valentine, hang out with your girlfriends, don't go looking for someone. When it's right, they'll come to you.
Movies and Television Shows of Carmen Electra
| | |
| --- | --- |
| Movies | Year |
| American Vampire | 1997 |
| Good Burger | 1997 |
| Starstruck | 1998 |
| Scary Movie | 2000 |
| Sol Goode | 2001 |
| Perfume | 2001 |
| My Boss's Daughter | 2003 |
| Max Havoc: Curse of the Dragon | 2004 |
| Epic Movie | 2007 |
| I Want Candy | 2007 |
| Full of It | 2007 |
| Meet the Spartans | 2008 |
| Disaster Movie | 2008 |
| Lap Dance | 2014 |
| Television Shows | |
| Erotic Confessions | 1996 |
| Baywatch | 1997-1998 |
| Loveline | 1997 |
| Hollywood Squares | 2000-2004 |
| 'Til Death Do Us Part: Carmen and Dave | 2004 |
| Joey | 2005-2006 |
| Britain's Got Talent | 2012 |
| Dance Moms | 2015 |
| The Last Dance | 2020 |
Awards Won by Carmen Electra
| | |
| --- | --- |
| Awards | Year |
| MTV Movie & TV Awards | 2004 |
| Golden Raspberry Awards | 2007 |
Affair/Boyfriend of Carmen Electra
Rob Patterson – Carmen Electra and Rob Patterson, a guitarist and composer, began dating each other in 2008. The couple soon got engaged, but could never take their relationship to the next level and had to distance themselves for undisclosed reasons.
Family of Carmen Electra
Father: Harry Patrick
Mother: Patricia Patrick
Sister: Debbie Patrick
Brother: Rod Mark
Ex-Husband: Dave Navarro ​(m.1998; div. 1999) and Dennis Rodman (m. 2003; div. 2007)​
Social Media Profiles of Carmen Electra
Facebook: CarmenElectra
Instagram: @carmenelectra
Twitter: @carmenelectra
Education/Qualification of Carmen Electra
School: Ann Weigel Elementary School, School for Creative and Performing Arts, and Cincinnati Public School District
College: Princeton High School and Barbizon Modeling and Acting School
Also Read: To view the ultimate collection of Hot and Appealing Pics of Carmen Electra, do follow the link, which will surely take you on a blissful ride.