Sini Shetty's Biography
Sini Shettys was born in 2000 in Mumbai, Maharashtra and her ancestors are from Karnataka. She is a beauty pageant titleholder who recently won Femina Miss India World 2022 where she represented her state of Karnataka.
Apart from winning the title, she is an Internet Sensation and she keeps sharing and entertaining her fans and followers with her dance videos. She is a professional dancer who has mixed her modern looks with traditional Indian Dance. Sini is very famous on her Instagram handle where she enjoys a massive fan following.
About Sini Shetty's Biography
Name: Sini Shetty
Stage Name / Full Name: Sini Shetty
Famous For / Known For: Femina Miss India World 2022, INIFD Miss Talented, Times Miss Body Beautiful.
Home Town: Karnataka (she was born and raised in Mumbai and is a Karnataka Native).
Nationality: Indian
Spouse: Unmarried
School: St. Dominic Savio Vidhyalaya, Mumbai
Collage: S.K. Somaiya Degree Commerce of Arts, Science and Commerce, Vidhya Vihar, Mumbai
Qualification: Graduate
Profession: Model, Product Executive, Dancer, Actor, Model, Content Creator
Father Name: Sadanand Shetty
Mother Name: Hema Shetty
Brother Name: Shikin Shetty
Siblings: Shikin Shetty
Date of Birth: Born in the year 2000
Zodiac Sign: Not Known
Nationality: Indian
Skin Tone or Ethnicity: Fair
Religion: Hinduism
Language: English and Hindi
Smoke or Drink: Not Known
Pets: Not Known
Hobbies: Dancing, Arts, Community Services, Cooking, Yoga and Travelling
Favourite Books & Movies – Into the Wild
Physical Stats /Body Measurement of Sini Shetty's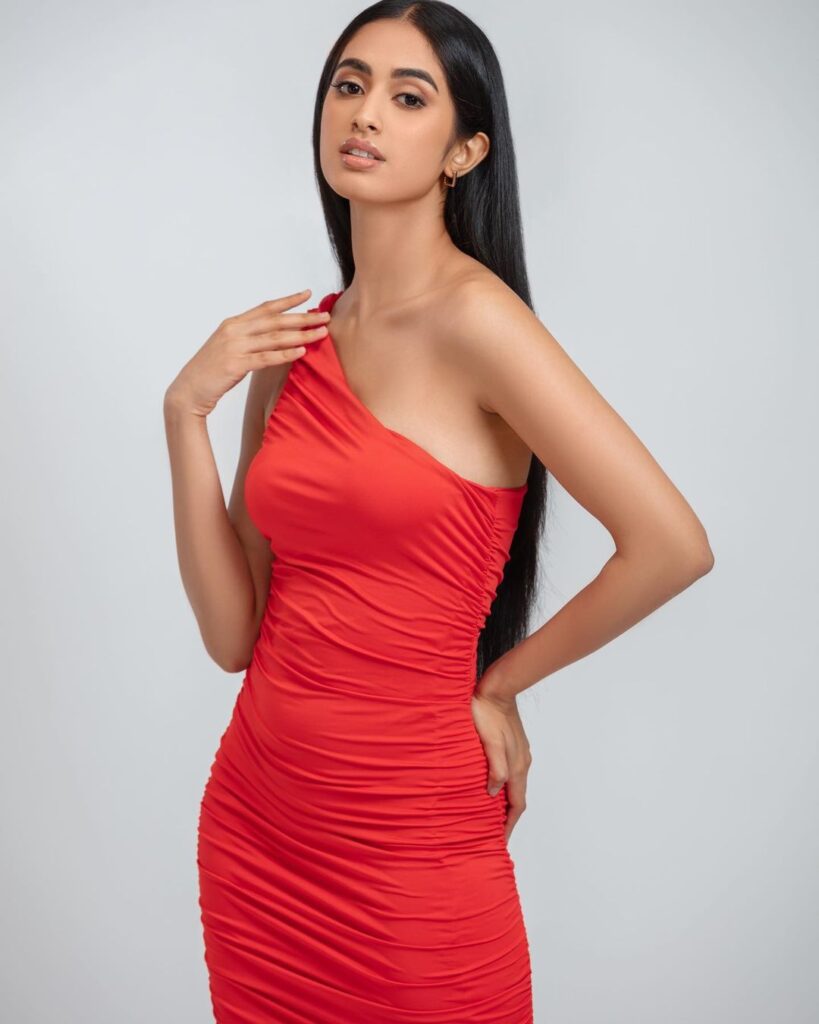 Figure measurement: 34-26-34
Skin Color: Fair
Eye Color: Brown
Hair Color: Black
Height: 5 feet 9 Inches
Interesting Facts about Sini Shetty
Sini Shetty is highly educated as she did her bachelor's degree in accounting and finance and now pursuing CFA as a Professional Course.
When viewing Sini Shetty's Instagram profile we came across many of her short videos and sometimes she is seen dancing with her bestie or sometimes she is seen dancing without a partner in a black bikini teamed up with high waist leggings. Seeing her move while she dances proves that she is a professional dancer.
Very few people know that Sini started dancing when she was 4 year old and likes to practice the classic dance of India that is Arangetram in Bharatanatyam seeing her dance moves and the way she has mixed modern looks and is performing the classical dance is very impressive.
Seeing Sini dance makes us think that she is a full fledged dancer by profession. She also released some dance videos on her Instagram handle and for that, she got a lot of engagement and praise from her fans on her social media channel.
Sini Shetty is inspired by Priyanka Chopra who was a Miss World 2000. Sini said that she remember what Priyanka Chopra said in an interview "'Don't try to squeeze into a glass slipper. Instead, shatter the glass ceiling". So Sini became a fan of Priyanka and started following her footprints.
In an interview, Sini Shetty was asked what advice will you give to today's youth for which Sini replied that "Life is not the number of breaths you take, it's the moment that takes your breath away. Never doubt yourself, everyone has a persona in them, the leader or executor. Believe in yourself and avail every opportunity".
In an interview when a reporter asked an Interesting question and Sini answered the question in a way that catches the whole nation's attention. The question was If god will grant you one wish, what would you ask for?. Sree Saini replied that "If God would grant me one wish, it would definitely be that nobody goes to bed hungry. And if I get one extra wish it would be that I automatically get dog treats as soon as I see a dog".
Many people do not know that Sini Shetty is an independent individual and has turned her passion for dance into her profession. She has aligned both of them successfully.
People Also Asked Questions about Sini Shetty:-
What is the height of Sini Shetty?
Sini Shetty is a winner of Miss India World 2022. She stands at 5 feet 9 inches.
Is Sini Shetty Married?
Sini Shetty is unmarried and at present is busy with her studies as she is pursuing her CFA Course.
What type of dance form Sini Shetty perform?
Sini Shetty's started practising dance when she was 4 years old. She practices various forms of dance and she specialises in Arangetram in Bharatanatyam.
What year did Sini Shetty was born?
Sini Shetty was born in the year 2000.
What are the hobbies of Sini Shetty?
Sini Shetty's hobbies include Dancing, Arts, Community Services, Cooking, Yoga and Travelling.
What is Sini Shetty famous for?
Sini Shetty's won Miss India World 2022 and she is also famous for sharing her dancing shorts videos on her Instagram Handle.
Social Media Accounts of Sini Shetty