Ameesha Patel Bio/Wiki
Who is the charismatic Indian actress, producer, and model who has left an indelible mark on the hearts of millions with her captivating performances?
None other than Ameesha Patel! With a career that spans Hindi and Telugu films, her journey from a promising debut to becoming a celebrated figure in the industry is nothing short of awe-inspiring.
Born on June 9, 1975, in the bustling city of Mumbai, Maharashtra, Ameesha Patel embraced the world of cinema with remarkable flair.
Her silver screen voyage commenced in the year 2000 when she made a dazzling entry in the romantic thriller "Kaho Naa… Pyaar Hai." This cinematic gem not only became a massive commercial hit but also brought Ameesha to the limelight, securing her the coveted Zee Cine Award for Best Female Debut.
But that was just the beginning of her journey toward cinematic greatness.
The Bollywood stage welcomed her with open arms, and she went on to enchant audiences with her exceptional acting prowess.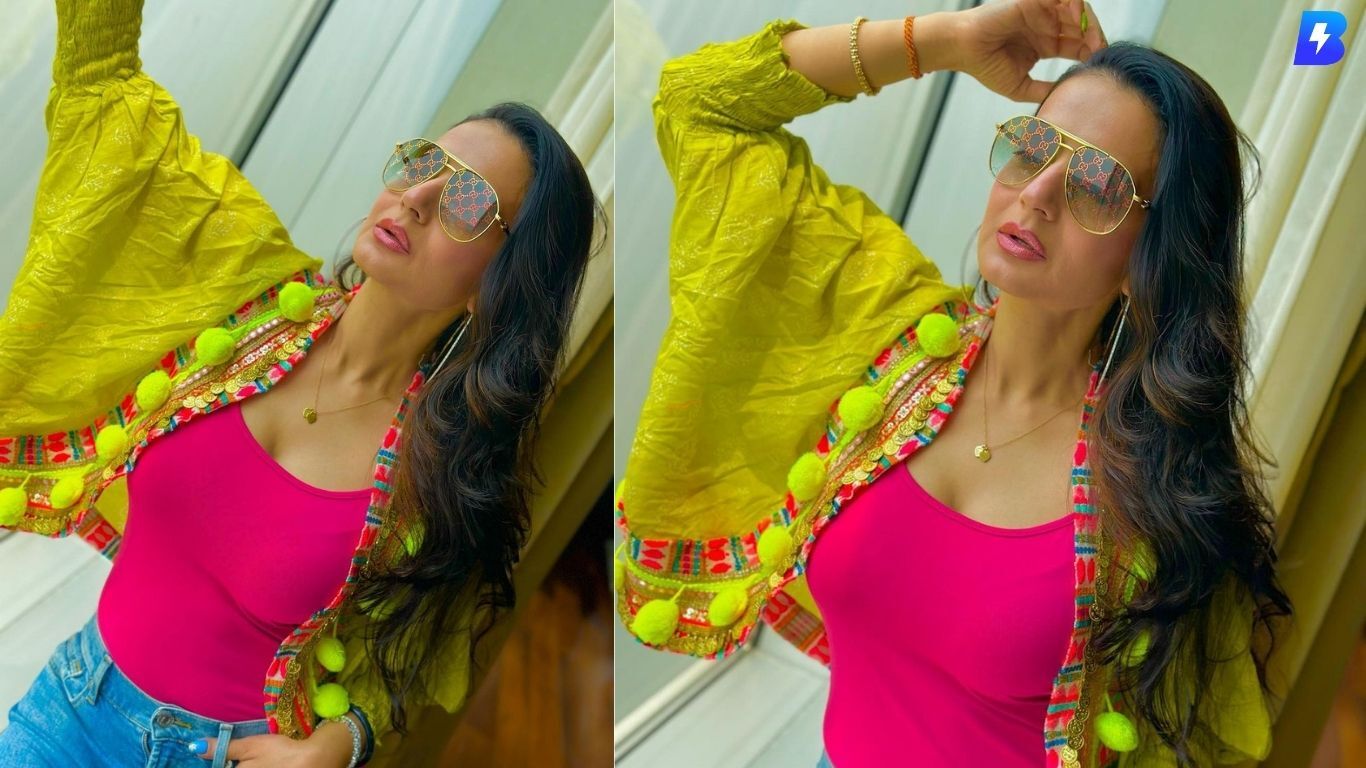 With successful films like "Badri" (2000) and the blockbuster "Gadar: Ek Prem Katha" (2001) alongside Sunny Deol, Ameesha etched her name in the annals of Indian cinema. For her spellbinding performance in "Gadar: Ek Prem Katha," she was bestowed with the prestigious Filmfare Special Performance Award, a testament to her undeniable talent.
Throughout her illustrious career, Ameesha Patel has shared the screen with a plethora of talented co-stars, including the likes of Akshaye Khanna, Akshay Kumar, Bobby Deol, Sanjay Dutt, Aftab Shivdasani, Hrithik Roshan, and Arjun Rampal.
Her versatility as an actress allowed her to take on diverse roles and showcase her acting finesse in films like "Ankahee" (2006), where her performance garnered critical acclaim despite the film's box office fate.
Beyond her enchanting performances, Ameesha Patel movies have explored various dimensions of the entertainment world.
She ventured into film production, adding yet another feather to her cap with her production "Desi Magic" (2019). Furthermore, she effortlessly graced the world of modeling, associating herself with prestigious brands that sought her radiant charm.
While the silver screen has been the stage of her professional accomplishments, Ameesha Patel biography has also been a topic of intrigue for many.
Over the years, discussions about Ameesha Patel marriage and husband have piqued her fans, adding to the allure of her enigmatic persona.
As she continues to enchant audiences with her timeless beauty and captivating talent, her success has undoubtedly contributed to Ameesha Patel net worth, making her a prominent figure in the industry.
Her popularity transcends the realms of the big screen, with a massive following on social media platforms, especially, Ameesha Patel Instagram channel, where fans from around the world admire and adore her.
With every passing year, Ameesha Patel's brilliance shines even brighter, and her admirers eagerly anticipate her next cinematic endeavor.
Speaking of which, Ameesha Patel Gadar 2 movie which is scheduled to release on 11 August 2023 stars Sunny Deol, Utkarsh Sharma, and Simrat Kaur in the main roles. This will be her first movie since 2018.
Whatever the outcome of the movies is, one thing remains certain – Ameesha Patel profile is a tale of inspiration and cinematic brilliance that continues to enthrall and captivate us all.
So, let's move on and find out more about Ameesha Patel age 2023, net worth, education, family, and so on in this intriguing Ameesha Patel Biography!
Ameesha Patel Biography
Name: Ameesha Patel/Amisha Patel
Nickname: Not Known
Known For:
Ameesha Patel is known for her work as an actress in Hindi, Telugu, and Tamil cinema. She gained recognition for her debut film "Kaho Naa… Pyaar Hai" in 2000. Ameesha Patel will soon be seen in the upcoming movie Gadar 2: The Katha Continues.
Ameesha Patel Date of Birth: 9 June 1975.
Ameesha Patel Age: Ameesha Patel is currently 48 years old (as of 2023).
Amisha Patel Height:
According to the search results, Amisha Patel height varies from 5 feet 2 inches (157 cm/1.57 m) to 5 feet 7 inches (170 cm/1.7 m) depending on the source. The most common height mentioned is 5 feet 5 inches (165 cm/1.65 m).
It is important to note that the information available on the internet may not always be accurate, and there may be discrepancies in the reported height of celebrities.
Ameesha Patel Weight:
Based on various results, Ameesha Patel weight varies from 50 kg (110 lbs) to 55 kg (121 lbs) depending on the source.
It is crucial to remember that information available on the internet is not always reliable, and there may be inconsistencies in celebrities' reported weight.
Ameesha Patel Hair Color:
Ameesha Patel hair color is mostly black. She is well-known for her lovely and fashionable hair. While there is mention of her having a "crazy blonde phase" in one source, it is unclear if this was a transitory hair color change or a reference to a specific occasion or photograph. Her natural hair color is black in general.
Ameesha Patel Eye Color: Black.
Ameesha Patel Zodiac Sign/Star Sign: Gemini.
Ameesha Patel Place of Birth: Mumbai, Maharashtra, India.
Known Languages: Hindi, English, Tamil, and Telugu.
Ameesha Patel Religion: Hinduism
Ameesha Patel Net Worth:
Ameesha Patel is a well-known Bollywood actress, model, and producer. Ameesha Patel net worth is believed to be between $30 and $35 million, depending on several online sources.
Patel has produced and modeled in addition to performing. In 2011, she founded her own production firm, Ameesha Patel Productions which accumulate in her net worth.
Ameesha Patel Marriage:
According to the search results, there is no clear information on Ameesha Patel marriage. She does not appear to be married at the moment.
There have been rumors of her supposed boyfriend, Faisal Patel, openly proposing to her on social media, but it is unclear whether they are in a serious relationship or whether the proposal was genuine. Ameesha Patel has made no formal declarations regarding her marital status or marriage intentions.
Ameesha Patel Nationality: Indian
Ameesha Patel Favorite Actors: Dilip Kumar, Amitabh Bachchan, and Aamir Khan.
Ameesha Patel Favorite Actress: Julia Roberts
Interesting Facts about Ameesha Patel
Did you know that Ameesha Patel hails from a Gujarati family, with her parents Amit and Asha? Interestingly, she shares the spotlight with her brother Ashmit Patel, and their lineage includes the renowned lawyer and politician, Rajni Patel. It's in her genes to shine!
Before making her mark in the film industry, Ameesha Patel took an unconventional path. She initially worked as an economic analyst at Khandwala Security Limited. But destiny had other plans for her, and she ventured into the realm of acting. Turning down an offer from Stanley, she joined the esteemed theatre group of Satyadev Dubey, where she honed her acting skills and showcased her talent in plays, including the remarkable Urdu language play "Neelam," produced by Tanveer Khan.
But that's not all! While she was conquering the theater scene, Ameesha couldn't resist the allure of the modeling world. She dabbled in small campaigns at first and gradually ventured into the realm of commercial campaigns. Her captivating charm and grace soon landed her modeling gigs for prominent Indian brands like Bajaj, Fair and Lovely, Cadbury, Fem, Lux, and many more. Talk about making a powerful presence both on and off the stage!
Like all journeys, Ameesha Patel's career had its ups and downs. After her smashing success with the movie "Humraaz," she faced a series of flop films from 2003 to 2006. But hey, even during challenging times, she remained resilient and determined to shine again.
Did you catch her thrilling stint in Bigg Boss 13? Yeah, the show was ultimately won by Sidharth Shukla! Ameesha Patel graced the popular reality show for a week, taking charge and assigning tasks to the housemates. Now that's what we call adding some spice to the entertainment world!
Beyond her glamorous life, Ameesha Patel has a few delightful quirks of her own. Did you know that she is a trained Bharatnatyam dancer? Talk about grace and elegance personified!
But wait, there's more! Behind her charming smile, Ameesha Patel harbors a sweet secret – she absolutely loves desserts! It's no wonder she captivates hearts with her sweetness both on and off the screen.
And let's not forget her dedication to fitness! Ameesha is a true-blue fitness enthusiast who finds joy in practicing yoga and Pilates. She knows how to strike that perfect balance between work and wellness!
Controversies about Ameesha Patel
Check Bounce Case: In 2018, Ameesha Patel faced a legal issue when a businessman named Ajay Kumar Singh claimed that she owed him Rs. 2.50 crores for an unreleased film. Although she returned the amount through a cheque, it bounced, leading to a court case and subsequent bail.
Alleged Affair with Vikram Bhatt: Before her Bollywood debut, Ameesha was reportedly involved with filmmaker Vikram Bhatt during the making of 'Aap Mujhe Achhe Lagne Lage.' Their rumored affair made headlines and even impacted her career.
Legal Dispute with Her Father: Ameesha accused her own father of embezzlement, claiming he misused Rs. 12 crores of her money. This led to a legal notice and strained family relations, but they eventually reconciled in 2009.
Controversial Remarks: Ameesha made headlines again with her allegations against director Anil Sharma, stating that technicians on the set of 'Gadar 2' didn't receive their due payments.
Controversial Comment on OTT Content: Recently, Ameesha faced backlash for her comments on OTT platforms, expressing displeasure over the portrayal of homosexuality and gay-lesbianism, which sparked criticism from netizens.
Feud with Bipasha Basu: Ameesha's appearance on Koffee With Karan brought to light a feud with Bipasha Basu, where remarks were exchanged about their respective film choices and appearances.
Ameesha Patel Movies
| | |
| --- | --- |
| Movies | Year |
| Kaho Naa… Pyaar Hai | 2000 |
| Badri (Telugu) | 2000 |
| Gadar: Ek Prem Katha | 2001 |
| Kranti | 2002 |
| Yeh Hai Jalwa | 2002 |
| Pudhiya Geethai (Tamil) | 2003 |
| Naani (Telugu) | 2004 |
| Zameer: The Fire Within | 2005 |
| Mangal Pandey: The Rising | 2005 |
| Mere Jeevan Saathi | 2006 |
| Honeymoon Travels Pvt. Ltd. | 2007 |
| Bhool Bhulaiyaa | 2007 |
| Parama Veera Chakra (Telugu) | 2011 |
| Race 2 | 2013 |
| Gadar 2: The Katha Continues | 2023 |
Ameesha Patel Family
Amisha Patel Father: Amit Patel
Amisha Patel Mother: Asha Patel
Amisha Patel Brother Name: Ashmit Patel
Ameesha Patel Social Media Profiles
Ameesha Patel Instagram Channel: @biographia
Ameesha Patel Twitter Channel: @ameesha_patel
Amisha Patel Education
Ameesha Patel attended Cathedral and John Connon Schools in Mumbai for her basic schooling. She was the school's head girl during the academic year 1992-1993.
Then, Amisha Patel went on to study at Tufts University in Boston, Massachusetts, after finishing her education. She first majored in bio-genetic engineering for two years before changing her emphasis to economics. The length of Amisha Patel education at Tufts University, however, is not indicated in the accessible search results.
ALSO READ: Suhana Khan Wikipedia