Lights, camera, desire!
Get ready to indulge in the tantalizing world of Lust Stories 2, the highly anticipated sequel to the 2018 Indian anthology film 'Lust Stories'.
Directed by a stellar lineup of Konkona Sen Sharma, Sujoy Ghosh, R. Balki, and Amit Ravindernath Sharma, this Netflix series is set to captivate audiences once again with its provocative tales of sex, desire, and love.
In this comprehensive blog, we delve into the enticing details mentioning Lust Stories 2 review, also highlighting its unique storytelling approach to the exceptional ensemble Lust Stories 2 cast that promises to ignite the screen.
A Diverse Quartet of Lust Stories Movie!
Just like its predecessor, Lust Stories on Netflix follows the anthology format, presenting four distinct narratives crafted by four visionary directors.
Each story explores the multifaceted dimensions of lust through the lenses of these creative minds.
What sets this sequel apart is the individuality each director brings to their tale, reflecting their unique styles and perspectives.
Lust Stories 2 Directors
Sujoy Ghosh, known for his prowess in the thriller genre, delves into a captivating thriller-ish lust story.
R. Balki offers his signature touch in a story that features the immensely talented Neena Gupta.
Meanwhile, Konkona Sen Sharma creates a cool, refreshing film with the talented duo Tillotama Shome and Amruta Subhash.
Lastly, Amit Ravindernath Sharma takes us to the heartland of India in a story featuring the dynamic duo of Kajol and Kumud Mishra.
Lust Stories Cast and Crew: A Female-Led Exploration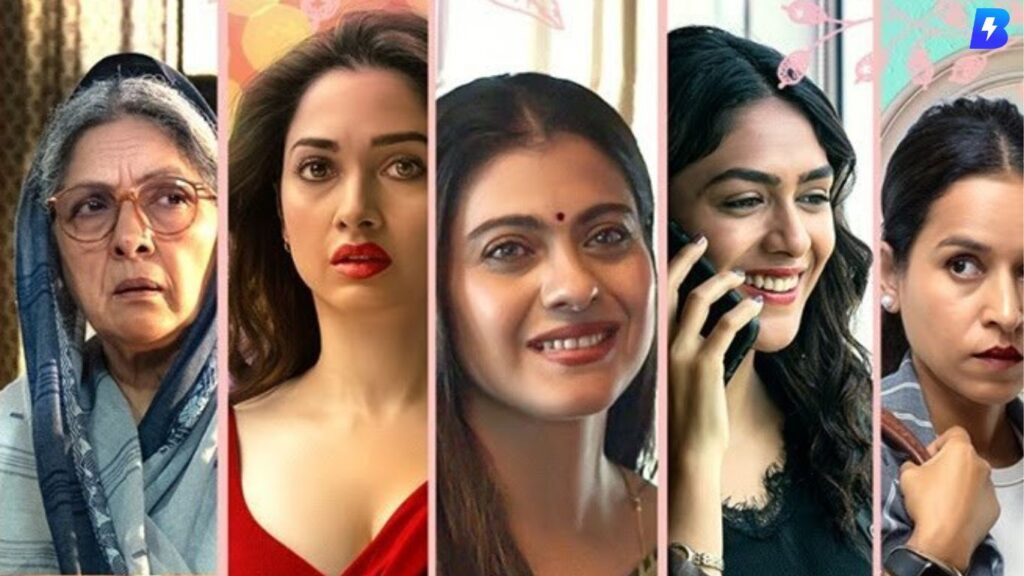 True to its name, Lust Stories 2 places women at the forefront of all four narratives.
This intriguing decision adds an empowering and unique perspective to exploring desire and sexuality.
From the veteran actress Neena Gupta to the iconic Bollywood star Kajol, the cast includes a range of talented actresses who embody their characters with grace and depth.
The narratives provide a platform for these remarkable women to showcase their versatility and dive into the complexities of their roles.
Meet the Lust Stories 2 Cast!
Let's take a closer look at the ensemble cast that brings the enticing characters of Lust Stories 2 to life:
Part – I: Made For Each Other directed by R Balki
Is Physical Compatibility the Key to Veda and Arjun's Perfect Match?
Neena Gupta as Veda's Grandmother: She is a veteran Indian actress who has starred in films such as " Woh Chokri", "Badhaai Ho", and "Vadh". She is known for her wit, charm, and impeccable comic timing. In Lust Stories 2, she plays a widow who is exploring her sexuality for the first time.
Angad Bedi as Arjun, Veda's fiancé: He is a popular Indian actor who has starred in films such as "Pink", "F.A.L.T.U", and "Dear Zindagi". He is known for his good looks, action skills, and ability to portray complex characters. In Lust Stories 2, he plays a married man entangled in a passionate affair with a younger woman, igniting sparks and secrets.
Mrunal Thakur as Veda: She is a rising star in the Indian film industry. She has starred in films such as "Super 30″, "Love Sonia", and "Jersey". She is known for her versatility and her ability to portray strong female characters. In Lust Stories 2, she plays a young woman who is struggling to come to terms with her sexuality.
Also Read: Taj Divided by Blood Review
Part – II: The Mirror directed by Konkona Sen Sharma
What Drives Isheeta to Cross the Line of Privacy and Indulge in Voyeurism?
Tillotama Shome as Isheeta: She is a critically acclaimed Indian actress who has starred in films such as "Monsoon Wedding", "Tooth Pari: When Love Bites", and "A Death in the Gunj". She is known for her natural acting style and her ability to portray complex female characters. In Lust Stories 2, she immerses herself in the role of a woman navigating her sexuality within a conservative society, showcasing a nice blend of vulnerability and strength.
Amruta Subhash as Seema: She is a talented Indian actress who has starred in films such as "Astu – So Be It", "Raman Raghav 2.0", and "Dhamaka". She is known for her versatility and her ability to portray strong female characters. In Lust Stories 2, her portrayal breathes life into a character struggling to embrace her desires and confront societal expectations.
Part – III: Sex With Ex directed by Sujoy Ghosh
What Dark Secrets Unfold as Vijay Encounters His Long-Lost Wife Shanti After Ten Years?
Tamannaah Bhatia as Shanti: She is a popular Indian actress who has starred in blockbuster films such as "Baahubali: The Beginning", "Baahubali: The Conclusion", and "Entertainment". She is known for her beauty, her dancing skills, and her ability to portray glamorous characters. In Lust Stories 2, she embodies a young woman determined to explore her sexuality, defying societal norms and expectations.
Check out : Tamanna Bhatia Biography
Vijay Varma as Vijay Parimal Premdas Chouhan: He is a rising star in the Indian film industry. He has starred in films such as "Darlings", "Gully Boy", and "Mirzapur". In Lust Stories 2, he adds depth to his character, a man embarking on a journey of self-acceptance and understanding his desires.
Part – IV: Tilchatta directed by Amit Sharma
Will Devyani's Plan for Revenge Against Suraj Unleash Unforeseen Consequences on Her Son Ankur?
Kajol as Devyani Singh: One of the most popular and respected actresses in India. Kajol has starred in films such as "Kabhi Khushi Kabhie Gham", "My Name Is Khan", and "Dilwale Dulhania Le Jayenge". She is known for her beauty, her charisma, and her ability to emote. In Lust Stories 2, she plays a married woman who is trying to reignite the passion in her relationship.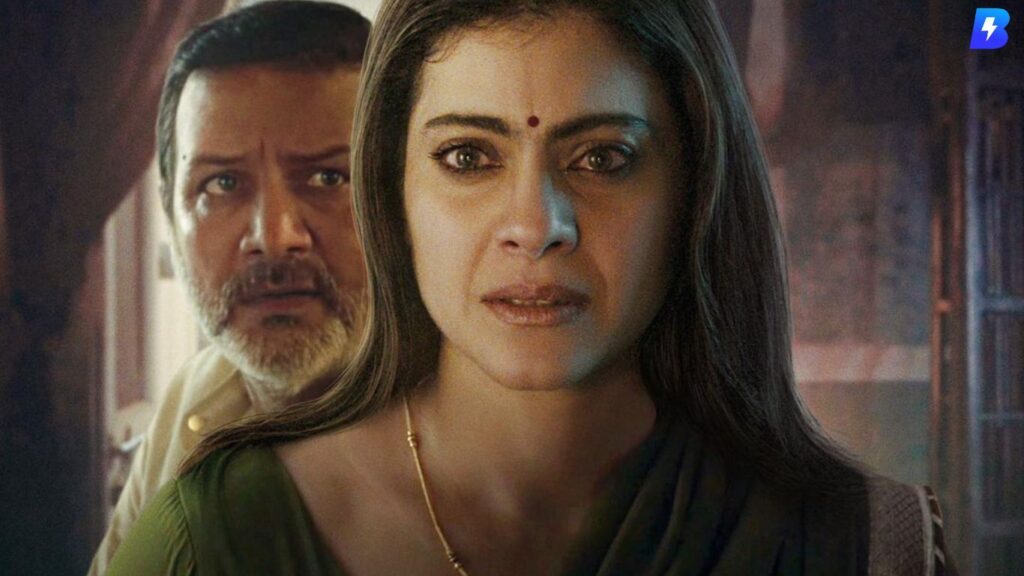 Kumud Mishra as Suraj Singh: He is a veteran Indian actor who has starred in films such as "Thappad", "Article 15", and "Tiger Zinda Hai". He is known for his nuanced performances and his ability to portray complex characters. In Lust Stories 2, he delivers a nuanced performance as a married man wrestling with his insatiable sexual appetite and family.
Lust Stories Movie is Nothing but A Labor of Love!
Creating an anthology series of this magnitude comes with its own set of challenges.
The producer, Ashi Dua, shared her insights on the casting process, the coordination of schedules, and the commitment to authenticity.
The intricate puzzle of bringing together such a talented and diverse cast was a meticulous yet gratifying idea
The result promises to be a compelling portrayal of the characters and their stories.
Looking Ahead!
Lust Stories 2 marks another milestone in the anthology trend, pioneered by Ashi Dua with Bombay Talkies and continued with the success of Lust Stories and Ghost Stories.
While she enjoys working on anthologies, Ashi Dua is also venturing into other web series and feature films outside the anthology format, unlike her current production Lust Stories Netflix, promising a diverse range of storytelling experiences shortly.
Are you All Set for Lust Stories 2?
With its release on Netflix scheduled for June 29, 2032, Lust Stories 2 is primed to captivate audiences once again with its seductive narratives and exceptional performances.
Brace yourself for an immersive exploration of lust, desire, and love, where the female protagonists lead the way in an enthralling journey of self-discovery.
So, mark your calendars, grab some popcorn, and prepare to be spellbound as Lust Stories 2 weaves its mesmerizing tales, leaving an indelible impact on your senses!
Lust Stories 2 Review
The new season of the Emmy-nominated anthology series Lust Stories 2 brings together four filmmakers to explore into the intriguing realms of passion and desire.
This anthology movie, although thematically examining the numerous facets of human connections and the influence of desire on relationships, goes beyond the surface-level term of "LUST." Despite a great start, not all of Lust Stories 2's stories fall nicely, resulting in a mixed experience.
The anthology begins with R Balki's short, which follows a young couple (Mrunal Thakur and Angad Bedi) and their amusing yet wise grandma (the brilliant Neena Gupta).
Balki uses his trademark unfiltered wit to emphasize the necessity of sexual compatibility in partnerships.
With Neena Gupta's goofy one-liners and Mrunal and Angad's compelling performances, this part is presented simplistically and idealistically, brilliantly leveraging humor to highlight the underlying subtext.
While some may argue that Balki's method is unnecessarily basic, there is no doubting the power of a few words to convey a powerful point. Sometimes the power comes from simplicity.
Following that is Konkona Sen Sharma's short, which emerges as the genuine centerpiece of Lust Stories 2.
Sharma handles the unpleasant process of women coming to terms with their sexuality with tremendous understanding. The short gives a view into the realm of anguish, uncertainty, pleasure, and awakening via the interwoven travels of two women from different socioeconomic origins, performed masterfully by Tillotama Shome and Amruta Subhash.
Sharma's astute directing masterfully engages the audience as voyeurs, transforming them into active players in the drama. This part captivates and resonates due to its great sensitivity and superb performance.
Sujoy Ghosh's short, on the other hand, features the popular duo Tamannaah Bhatia and Vijay Varma and delves into the domain of thriller.
It falls short of expectations, however, as it lacks heart and fails to do credit to the performers' abilities. Tamannaah's voice is detached as if reciting words, while Vijay's portrayal of the adversary feels monotonous.
Unfortunately, their on-screen chemistry is ineffective. With a shaky landing and typical thriller components, this short falls short, which is worsened by poor green screen work.
Amit Sharma directs the anthology's concluding episode, which stars Kajol and Kumud Mishra.
This film, which explores the dark and therapeutic elements of using passion as a weapon, comes with a warning because it depicts domestic violence.
Kumud plays a prominent guy in a community who succumbs to his insatiable passion by forcing interactions with young females.
Nightfall reintroduces him to his wife, played by the great Kajol, who cleverly uses his heinous passions to take her vengeance. However, not every story in Lust Stories 2 concludes well.
Amit Sharma's directorial captures the disturbing concept of desire brilliantly in this section, which is guaranteed to elicit mixed opinions.
Lust Stories 2 review falls short of breaking new territory and maintaining the compelling brilliance of its predecessor.
While Konkona Sen Sharma's short shines as a noteworthy exception, the anthology as a whole falls short of expectations. It tries to broaden the examination of passion and its repercussions but falls short.
At times, one may wonder if they are watching Lust Stories or Ghost Stories, highlighting the need for increased creativity and ingenuity.
Finally, Lust Stories 2 review is a collection of stories that explore lust and desire to varied degrees of success.
It's a voyage that highlights Konkona Sen Sharma's brilliance while also falling short in other areas.
The first season explored many aspects of passion and human emotions, raising anticipation for this sequel. While Lust Stories 2 cast and crew may not achieve the same heights as its predecessor, it is nevertheless an entertaining film, especially for fans of Indian cinema.
FAQs
Q1. What is Lust Stories 2 Release Date?
29 June 2023
Q2. Who are the actors in Lust Story Season 2?
Amruta Shubhash, Angad Bedi, Kajol, Kumud Mishra, Mrunal Thakur, Neena Gupta, Tamannaah Bhatia, Tillotama Shome, and Vijay Varma feature in the series, which will be available on Netflix on June 29.
Q3. How many seasons are there in Lust Stories?
Netflix has announced that the second season of its Indian original Lust Stories, starring Kajol, Neena Gupta, Mrunal Thakur, and Amruta Subhash, would air on June 29th.
Q4. Is Lust stories worth watching?
It's a fantastic film to watch…Anurag Kashyap, Zoya Akhtar, Dibakar Banerjee, and Karan Johar beautifully express various aspects of society's mentality. It tells the stories of four distinct women and their lust, as suggested by the title of the film, LUST STORIES.
Q5. How can I watch episodes of Lust Stories?
Watch Lust Stories | Official Netflix Website