About Neeraj Chopra
Ladies and gentlemen, sports enthusiasts from around the world, gather 'round! Today, let's dive into the inspiring journey and remarkable achievements of none other than the javelin throw sensation, Neeraj Chopra!
Welcome to Neeraj Chopra News, your one-stop destination for all things Neeraj Chopra.
Whether you're a fan of track and field athletics or simply an admirer of incredible human achievements, Neeraj Chopra's story is one that will leave you inspired and amazed.
Neeraj Chopra, a name that echoes across stadiums and history books alike, is not just an ordinary athlete; he's an embodiment of grit, determination, and sheer talent.
Hailing from the vibrant state of Haryana, India, this javelin throw maestro was born on December 24, 1997, and is currently basking in the glory of his 26 years of age (as of 2023).
Picture this: a Junior Commissioned Officer Subedar (JCO) in the Indian Army, standing tall and proud with his gold medals glinting in the sunlight.
Neeraj Chopra has etched his name in the annals of sports history as the first Asian athlete to grasp the coveted Olympic gold medal in men's javelin throw.
But wait, there's more – he's not just an Olympic champion, he's a World champion, Asian Games champion, and even a Diamond League champion in his event.
Hold onto your seats, because Neeraj Chopra has shattered records like a force of nature. He's the first Indian track and field athlete to strike gold at the Olympics, and he did it with a stunning victory on his Olympic debut.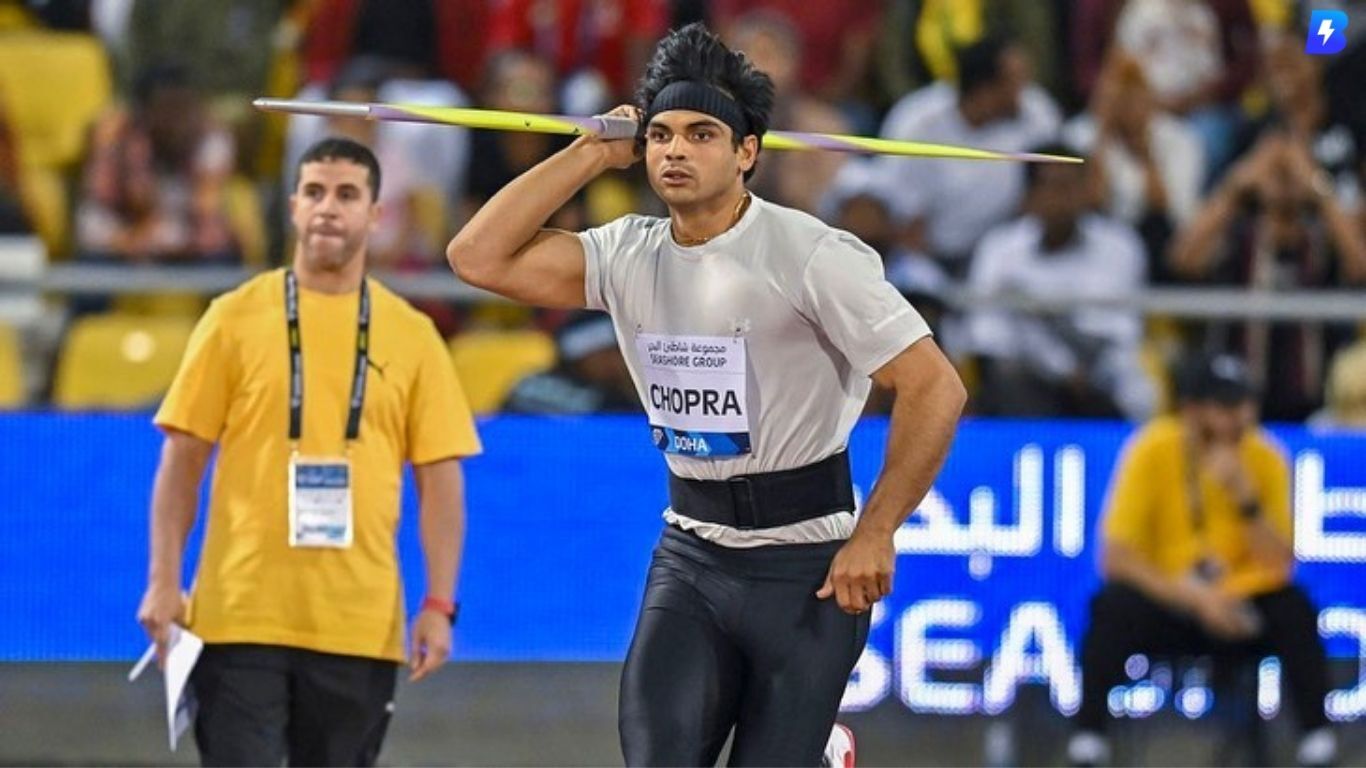 Neeraj Chopra personal best, his longest throw, an incredible 86.48 meters, not only set the world ablaze but also set a world U20 record, making him the first Indian athlete to ever achieve such a feat.
In the realm of international competitions, Neeraj Chopra is a true titan. From the Commonwealth Games to the Asian Games, from the Asian Championships to the grand stage of the World Athletics Championships, he has left his mark with gold medals and electrifying performances.
But the journey hasn't been all about accolades; it's also about the sweat, the tears, and the unwavering dedication.
Neeraj Chopra's journey started with the World Youth Championships in 2013, and since then, there has been no looking back. From clinching silver at the Youth Olympics in 2014 to becoming a household name with a staggering 7 million followers on Instagram, his story is one that resonates with every aspiring athlete.
And guess what? The Neeraj Chopra saga is far from over. With a silver medal at the 2022 World Championships and the first gold for India at the 2023 World Athletics Championships, he continues to redefine excellence on the global stage.
So, dear readers, whether you're here for the Neeraj Chopra Olympics triumph, his jaw-dropping personal best throw, or just to revel in the details of his awe-inspiring journey, you're in for a treat.
Neeraj Chopra Final is not just about the end; it's about celebrating a legacy that's still unfolding. Stay tuned to quench your thirst for all things Neeraj Chopra!
Neeraj Chopra Biography
Name: Neeraj Chopra
Nickname: Nijju
Known for: Neeraj Chopra is the reigning Olympic champion, World champion, and Diamond League champion in the javelin throw
Neeraj Chopra Date of Birth: 24 December 1997
Neeraj Chopra Age: 26 Years (as of 2023)
Neeraj Chopra Height:
Neeraj Chopra's height is listed at 1.82 meters or 6 feet according to sources.
However, other sources state his height as 5 feet 10 inches (178 cm). There could be a slight variation in Neeraj Chopra height over time, or there might be a discrepancy among the sources. Nevertheless, it's noteworthy that Neeraj Chopra's height falls within the favorable range for javelin throw athletes, which likely plays a role in his achievements in the sport.
Neeraj Chopra Weight:
Neeraj Chopra's weight is recorded as 86 kg or 190 lbs. It's important to acknowledge that weight can vary due to factors like training, diet, and overall fitness. Neeraj Chopra's weight aligns well with his height. Keeping an optimal weight is crucial for athletes, as it can influence both their performance and general well-being.
Neeraj Chopra Hair Color: Black
Neeraj Chopra Eye Color: Black
Neeraj Chopra Zodiac Sign/Star Sign: Capricorn
Neeraj Chopra Place of Birth: Khandra Village, Panipat District, Haryana, India
Known Languages: Hindi
Neeraj Chopra Religion: Hinduism
Neeraj Chopra Net Worth:
As of 2023, Neeraj Chopra net worth is estimated to be between $4 million to $4.5 million, approximately, equivalent to 33 crores to 37 crores in Indian rupees.
This accumulation stems from diverse avenues such as prize money, endorsements, brand collaborations, and accolades for his exceptional athletic feats.
Neeraj Chopra triumphs in esteemed competitions like the Olympics, Commonwealth Games, and Asian Games have significantly contributed to his financial growth.
Television advertisements have further bolstered his earnings. It's important to note that Neeraj Chopra net worth remains subject to fluctuations as he continues to flourish in his career.
Neeraj Chopra Marriage: Unmarried
Neeraj Chopra Personal Best:
Sources state that Neeraj Chopra Best Throw was seen at the Stockholm Diamond League 2022, which was 89.94m. However, the majority of the reports consider Neeraj Chopra Longest Throw to be 88.17m registered at World Athletics Championships 2023, Budapest
Neeraj Chopra Favorite Actors: Randeep Hooda and Akshay Kumar
Neeraj Chopra Army Rank: As of November 2022, Neeraj Chopra holds the rank of Subedar in the Indian Army
Interesting Information on Neeraj Chopra
Can you believe that at the tender age of 12, Neeraj was already lugging around a whopping 90 kilos? Talk about starting young! But hey, with some gentle nudging from his family, he hit the gym and leveled up his fitness game.
Surprise, surprise! Neeraj Chopra's first heartthrob wasn't the javelin but the volleyball court. Yep, you heard it right. Little Neeraj used to be quite the volleyball aficionado. Who would've guessed?
Remember Neeraj Chopra's historic win at the U20 World Championships in Poland? He was being guided by none other than Australia's Garry Calvert. Sadly, Calvert's journey came to an end in 2018 due to a heart attack. Neeraj shared his heartache about it on Twitter, showing the deep bond they shared.
Coaching switch alert! From former German javelin thrower Uwe Hohn to Klaus Bartonietz, Neeraj's coaches have played a pivotal role in shaping his trajectory. Uwe Hohn, the javelin magician who threw it over 100 meters, had his stint with Neeraj from 2017 to 2018. And guess what? Klaus Bartonietz fine-tuned Neeraj's javelin release angle, upping his game even more.
Neeraj Chopra: a multi-talented man! While he's conquering stadiums, he's also conquering the classroom. Currently, he is knee-deep in his BA at DAV College. But that's not all – post his glorious U-20 championship win in 2016, he was appointed Naib Subedar in the Indian Army. Talk about a power-packed CV!
Guess who's in on the action to propel Neeraj Chopra to Olympic glory? The Target Olympic Podium Scheme (TOPS) is totally rooting for him. It's like having the government's official cheerleading squad on your side!
Neeraj Chopra Awards and Achievements
| | | | |
| --- | --- | --- | --- |
| Competition | Year | Position | Result |
| World U18 Championships – Donetsk, Ukraine | 2013 | 19th (q) | 66.75m |
| Asian Championships – Wuhan, China | 2015 | 9th | 70.50m |
| South Asian Games – Guwahati, India | 2016 | 1 | 82.23m |
| Asian U20 Championships – Ho Chi Minh City, Vietnam | 2016 | 2 | 77.60m |
| World U20 Championships – Bydgoszcz, Poland | 2016 | 1 | 86.48m |
| Asian Championships – Bhubaneswar, India | 2017 | 1 | 85.23m |
| World Championships – London, UK | 2017 | 15th (q) | 82.26m |
| Commonwealth Games – Gold Coast, Australia | 2018 | 1 | 86.47m |
| Asian Games – Jakarta, Indonesia | 2018 | 1 | 88.06m |
| Olympic Games – Tokyo, Japan | 2021 | 1 | 87.58m |
| World Championships – Eugene, OR, United States | 2022 | 2 | 88.13m |
| Stockholm Diamond League | 2022 | 1 | 89.94m |
| World Championships – Budapest, Hungary | 2023 | 1 | 88.17m |
Neeraj Chopra Family
Neeraj Chopra Father: Satish Kumar
Neeraj Chopra Mother: Saroj Devi
Neeraj Chopra Social Media Profiles
Neeraj Chopra Instagram Channel: @neeraj____chopra
Neeraj Chopra Twitter: @Neeraj_chopra1
Neeraj Chopra Facebook: @neerajchopra01
Neeraj Chopra Education
Neeraj Chopra's educational journey unfolds like a tale of hometown roots and academic pursuits intertwined with his athletic dreams:
First off, his secondary education? Well, that was right in his hometown, a chapter that set the foundation for his incredible journey.
Then came the next chapter at Dayanand Anglo-Vedic College in Chandigarh, where he embarked on a journey of learning and growth.
But that's not all—fast forward to 2021, and Neeraj was busy crafting his future at Lovely Professional University in Jalandhar, Punjab, where he was diligently pursuing a Bachelor of Arts.
Now, here's the thing: Neeraj Chopra's education has been uniquely tailored to accommodate his explosive career in javelin throw. A harmony of dedication, hard work, and immense talent has propelled him to scale unparalleled heights in the world of athletics.
ALSO READ: Rameshbabu Praggnanandhaa Biography