In the world of chess, where strategy and intellect converge on the sixty-four squares of the board, there emerges a young prodigy who has been capturing the attention of enthusiasts and experts alike.
Meet GM Rameshbabu Praggnanandhaa, a name that has become synonymous with brilliance and youthful prowess in the realm of chess.
Hailing from the vibrant city of Chennai, Tamil Nadu, India, Praggnanandhaa was born on August 10, 2005.
Sporting an intellect that far exceeds GM Rameshbabu Praggnanandhaa age, as he currently is 18 years old, who has stepped into the world of chess and quickly made his mark.
But what sets him apart is not just his astonishing ability to visualize complex moves and variations, but also his lineage.
The younger sibling of the accomplished Woman Grandmaster and International Master, R Vaishali, Praggnanandhaa seems to carry the chess legacy within his genes.
Coming from humble beginnings, with a father working as a branch manager at TNSC Bank and a mother named Nagalaxmi, Praggnanandhaa's journey is a testament to passion, perseverance, and sheer talent.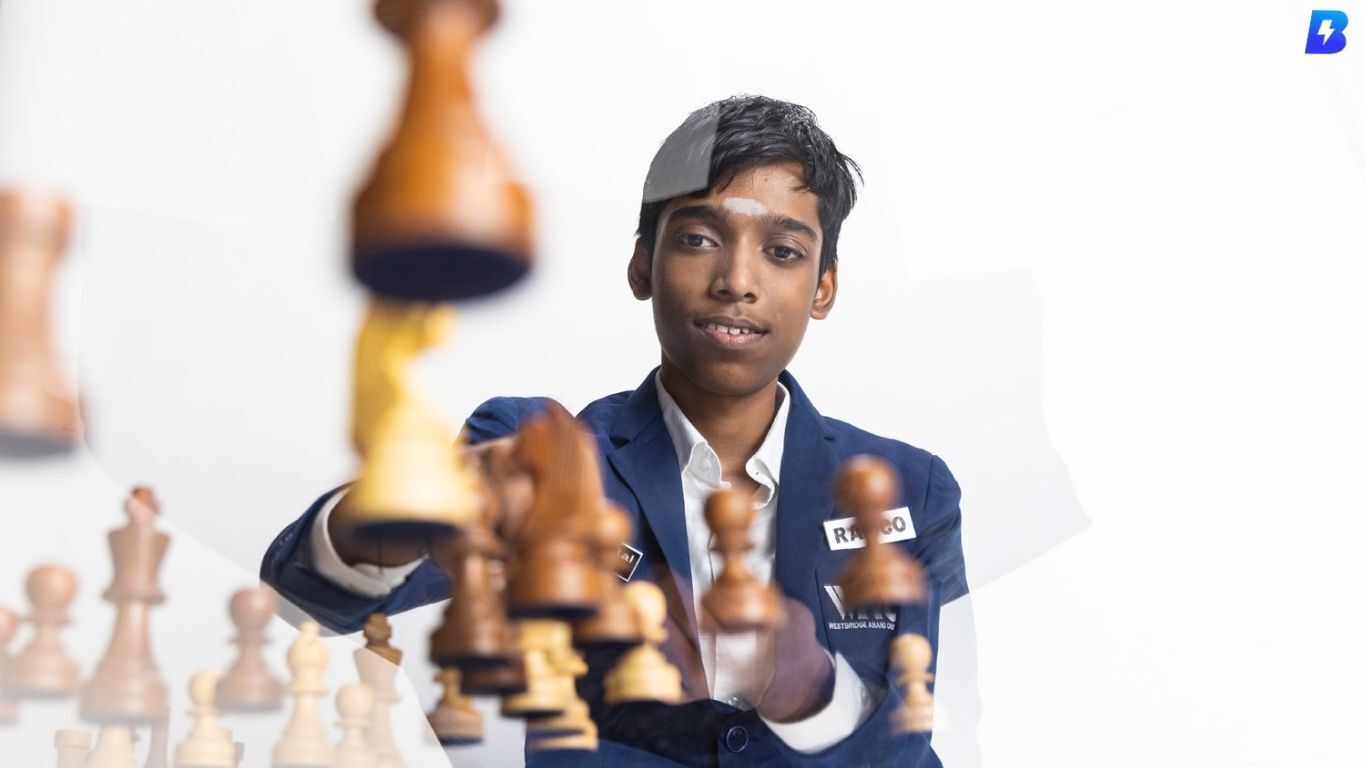 From an early age, his affinity for the game was evident. He rapidly climbed the ranks, and by the tender age of 10, he had already achieved the title of International Master – a feat that made him the youngest to ever achieve this distinction at the time.
But Praggnanandhaa's hunger for success did not stop there. At the remarkable age of 12, he etched his name in the annals of chess history once again by becoming a Grandmaster, solidifying his position as one of the brightest chess talents India has ever produced. His achievements garnered attention not just due to their rarity, but because of the sheer skill and brilliance he exhibited on the board.
As of April 2023, Praggnanandhaa's FIDE rating stands at an impressive elo 2688, a testament to his consistent and strategic gameplay.
This remarkable rating has propelled him to the 46th position in the global chess rankings – a remarkable feat for someone of his age.
In 2019, Praggnanandhaa showcased his mettle by triumphing in the Xtracon Chess Open with an undefeated score of 8.5/10. This victory was no small feat, as the tournament featured a formidable field of 13 Grandmasters ranked over 2600.
The year 2022 marked a significant turning point in GM Praggnanandhaa's career. In a breathtaking display of skill and audacity, he achieved what many considered unthinkable – defeating the reigning world champion, Magnus Carlsen.
This remarkable victory came in a rapid game at the Airthings Masters Rapid Chess Tournament, cementing Praggnanandhaa's reputation as a true force to be reckoned with.
GM Praggnanandhaa's journey didn't stop at individual achievements. In the same year, he clinched victory in the Asian Continental Chess Championship and secured a bronze medal for the Indian team at the 2022 FIDE Olympiad, showcasing his prowess in team events as well.
In 2023, GM Praggnanandhaa etched his name in the history books once again.
At the Chess World Cup, he became the youngest player from India to reach the final, a feat that only the legendary Viswanathan Anand had achieved before. To add to the drama, his opponent in the final was none other than Magnus Carlsen himself – a match that the chess world had been eagerly awaiting.
So, who do you think will win in the Chess World Cup 2023 Final – GM Rameshbabu Praggnanandhaa vs Carlsen? Unfortunately, Magnus Carlsen defeated Praggnanandhaa in the Tiebreaks, after their classical matches getting tied!
As the chess world eagerly anticipates the showdown between Rameshbabu Praggnanandhaa vs Carlsen, the stage is set for a battle of wits and strategy.
GM Rameshbabu Praggnanandhaa, the young grandmaster with an age-defying intellect, is not just a player but a symbol of the boundless possibilities that lie in the world of chess. His journey is an inspiring tale of determination, brilliance, and a passion for the game that knows no bounds.
GM Rameshbabu Praggnanandhaa Biography
Name: Rameshbabu Praggnanandhaa
Chess Title: GM Rameshbabu Praggnanandhaa
Nickname: Praggu
Rameshbabu Praggnanandhaa Date of Birth: 10 August 2005
Rameshbabu Praggnanandhaa Age: 18 years old (as of 2023)
Rameshbabu Praggnanandhaa Height: 4′ 6″/137 cm/1.37 m
Rameshbabu Praggnanandhaa Weight:
According to the various search results, there are conflicting reports regarding GM Rameshbabu Praggnanandhaa's weight as they state it to range from 45 kg to 50 kg
Rameshbabu Praggnanandhaa Hair Color: Black
Rameshbabu Praggnanandhaa Eye Color: Black
Rameshbabu Praggnanandhaa Elo Rating (Standard): 2707
Rameshbabu Praggnanandhaa Elo Rating (Rapid):2645
Rameshbabu Praggnanandhaa Elo Rating (Blitz): 2623
Rameshbabu Praggnanandhaa Fide Ranking: 29th (as of 2023)
Rameshbabu Praggnanandhaa Net Worth:
According to several sources, GM Rameshbabu Praggnanandhaa net worth has been a subject of varying estimates.
While some sources suggest a GM Rameshbabu Praggnanandhaa net worth of around $10,000, others mention a figure of approximately $2 million as of 2021. The exact value remains uncertain due to conflicting information from different sources.
Rameshbabu Praggnanandhaa Nationality: Indian
Rameshbabu Praggnanandhaa Place of Birth: Chennai, Tamil Nadu, India
Interesting Facts about GM Rameshbabu Praggnanandhaa
Praggnanandhaa's journey into chess began at the tender age of five. Despite initial hesitation from his family about his choice of sport, his talent bloomed. At just seven, he clinched the World Youth Chess Championship title and earned the prestigious FIDE Master title.
In 2016, Praggnanandhaa etched his name in chess history books by becoming the youngest International Master ever. But he didn't stop there – at 12, he stunned the world as the second-youngest Grandmaster in history. This feat made him not only a Grandmaster but also the youngest Indian to hold this title.
This young prodigy has a habit of toppling giants. He made waves by defeating the reigning world champion, Magnus Carlsen, causing ripples of astonishment through the chess community.
In an epic showdown, GM Rameshbabu Praggnanandhaa recently triumphed over Fabiano Caruana in the FIDE World Cup 2023 semifinals. With this victory, he secured a face-off with the World No. 1, Magnus Carlsen, in the final match.
GM rameshbabu Praggnanandhaa's victory over Caruana not only earned him a spot in the World Cup final but also secured his place in the Candidates 2024. This historic achievement underlines his potential to excel on the global chess stage.
His coach, R.B. Ramesh, couldn't be prouder. He lauds Praggnanandhaa's exceptional performance and is optimistic about his future, especially considering his innovative opening strategies.
In a remarkable display of skill, Praggnanandhaa defeated a 2800-rated grandmaster, Ding Liren, during the Tata Steel Chess Masters 2023. This victory marked a significant milestone in his journey.
At just 18, Praggnanandhaa's journey has been nothing short of awe-inspiring. Though his Chess World Cup final 2023 against Carlsen ended in defeat, his remarkable achievements have already made India proud. Also, we have to agree that the GM Rameshbabu Praggnanandhaa vs Carlsen fight was nothing short of the battle of the Titans!
CHECK OUT: Neeraj Chopra Biography
Rameshbabu Praggnanandhaa Family
Rameshbabu Praggnanandhaa Father: Ramesh Babu
Rameshbabu Praggnanandhaa Mother: Nagalaxmi
Rameshbabu Praggnanandhaa Elder Sister: R. Vaishali
Rameshbabu Praggnanandhaa Education Qualification
Rameshbabu Praggnanandhaa School: Velammal Matriculation Higher Secondary School, Chennai
ALSO READ: Virat Kohli Biography