About Varsha Dongre
There are very few people who can overcome adversity and make a name for themselves in the world. One such personality is Indore based Varsha Dongre.  
She treated her speech and hearing impairment as an opportunity and won the prestigious title of 'Star Line Miss India 2021'. She was highly praised for her exceptional performance and gorgeous looks by the entire state of Madhya Pradesh.
Varsha Dongre Biography
Name: Varsha Dongre
Known For: Her Sizzling Ramp Walks as a Model & Music Videos
Varsha Dongre Birth Year: 1999
Varsha Dongre Age: 22 Years
Varsha Dongre Weight: 47kg
Varsha Dongre Height: 5'6″ ft
Varsha Dongre Eye Color: Black
Varsha Dongre Hair Color: Black
Known Languages: Hindi and English
Profession: Model
Hair Length: Medium
Hair Type: Straight
Skin Tone: Fair
Varsha Dongre Marital Status: Unmarried
Varsha Dongre Nationality: Indian
Home Town: Indore, India
Currently Living: Indore, India
Interesting Facts about Varsha Dongre
1. Varsha's family consists of her father, mother, and younger sister. They are also born deaf and mute.
2. She shifted with her family from Khandwa to Indore for better facilities and opportunities.
3. Her father always wanted her to achieve something big in her life, but unfortunately, her father died the previous year.
4. She always used to score good marks and is currently a second-year student of Bachelor of Commerce.
5. To participate in the 'Miss India' contest she faced immense financial hardships, and asked for financial aid from various organizations and collected a significant amount which made it possible for her to participate.
6. In the Miss India competition, she competed alongside 1000 talented contestants to become victorious.
7. After her victory she was called by the Collector of Indore Manish Patel, where she explained her future dreams through sign language that she wanted to next compete for the title of 'Miss World'.
8. In a webinar organized on the occasion of World Organization of the Day, she announced that she would donate her organs after her death. She further said that her eyes and ear may not be of any use but her other vital organs can be used to save someone else's life.
9. Because of her drive and determination, Varsha Dongre was able to win the title of Miss Deaf Asia 2022 and finish second at the Miss Deaf International 2022 pageant.
10. Varsha Dongre Miss Deaf Asia 2022, making her only the second Indian to ever win a title in an international pageant.
11. Varsha has also traveled to Tanzania, South Africa, to take part in the Miss and Mister Deaf International (MMDI) Competition, in 2022. There were competitors from almost 15 different countries. Despite her loss, Varsha nevertheless managed to come in second.
Awards Won by Varsha Dongre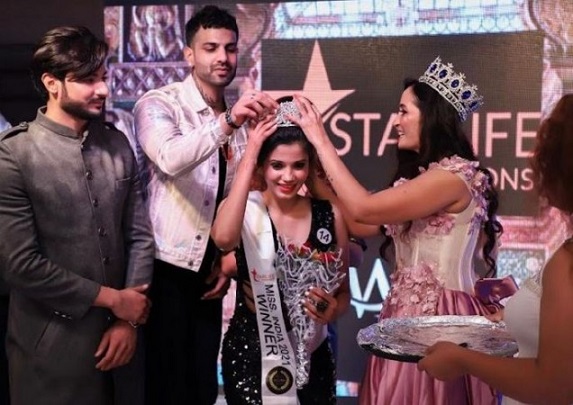 Miss Deaf MP 2018
Miss Deaf India 2018
Starlife Miss India 2021
Miss Deaf Asia 2022
2nd Place Miss Deaf International 2022.
Varsha Dongre Social Media Profiles
Instagram: varsha_dongre_
Varsha Dongre Education/Qualifications
B.Com (Pursuing)