Looking for top fashion influencers in India?
Ready to discover the ultimate style icons who are taking the Indian fashion scene by storm?
If you wanted to be effortlessly chic, make heads turn, and leave an indelible mark with your fashion choices, then brace yourself for the list of the most captivating Indian fashion influencers on Instagram.
These trendsetters have mastered the art of fashion on Instagram, captivating audiences with their impeccable sense of style and their ability to curate ensembles that exude glamour and panache.
In the realm of the best fashion influencers on Instagram, it's impossible to overlook the top fashion influencers in India who consistently set the bar higher with their awe-inspiring fashion statements.
From dazzling designer couture to bohemian chic, they seamlessly blend traditional Indian aesthetics with modern trends, creating a unique fashion fusion that is simply mesmerizing.
So who are these fashion mavens?
They are the epitome of elegance, effortlessly combining vibrant colors, intricate patterns, and exquisite fabrics to create sartorial masterpieces. With a simple scroll through their Instagram feeds, you'll find yourself transported into a world of sheer beauty and sophistication.
These fashion influencers of India are more than just style icons.
They are the trailblazers who have redefined the boundaries of fashion, inspiring millions of women to embrace their individuality and express themselves through their clothing choices.
Their impeccable taste and a keen eye for detail have propelled them to the forefront of the industry, making them the go-to experts for fashion inspiration.
Whether you're preparing for a grand wedding, a festive celebration, or a casual get-together, these fashion influencers will guide you through the labyrinth of trends, helping you curate ensembles that are nothing short of breathtaking. With their expertise, you'll effortlessly navigate the world of fashion, confidently turning heads and leaving a lasting impression wherever you go.
So, are you ready to embark on a fashion journey with these top fashion influencers in India?
Get ready to embrace the beauty of Indian fashion, unlock your inner fashionista, and make your mark in the world of style.
Follow these inspiring individuals, and get ready to unleash your fashion prowess, turning every occasion into a runway of your creation.
#1 Top Fashion Influencers in India – Juhi Godambe
When it comes to curating a list of Indian fashion influencers on Instagram, Juhi Godambe's name strikes first in our minds.
A fashion stylist and graduate from the prestigious London School of Trends in Buying and Merchandising has made a name for herself in a short period in this industry, known for her out-of-the-box fashion ideology and skills, has created a trendy fashion niche where the millennials are heavily influenced by her novel fashion ideas.
The rise in internet usage where everyone has a smartphone at present has made fashion one of the trendiest topics in young minds which has led to the coming up of fashion influencers who could guide the masses and put them beat with the current fashion trends.
Juhi is also the founder of one of the most famous apparel brands 'Arabellaa' which aims to revolutionize young women's dressing sense where the brand not only offers elegant fabrics but also accentuates their inner personality. Moreover, as a leading fashion influencer, she has more than 539K followers on Instagram (as of July 2023).
#2 Top Female Fashion Influencer – Akanksha Redhu
Unraveling the mysteries of fashion that keep us on our toes and celebrating the allure of unique and captivating style is where Akanksha Redhu truly shines.
With her popular and remarkable fashion blogs, she delves into the depths of the ever-evolving world of fashion, providing answers to the questions that intrigue us all.
Starting her journey from writing lifestyle blogs, she is a sincere fashion enthusiast who completed her fashion designing course from the decorated National Institute of Fashion Technology, Delhi, and since then there is no looking back.
The reason behind Akanksha's decision to write her lifestyle and fashion blog channel was to encourage people to look dashing and beautiful.
She believed that everyone is a piece of art, it's just that they need some fashion do-overs to shine bright and portray themselves with full confidence.
Akanksha through her engaging and quality fashion-related content with meticulous and unparalleled tips and suggestions has made fashion easy and accessible, which has even led her to grow in the ranks of top fashion influencers in India.
DO READ: Top 5 Food Bloggers of India which you all should INSTANTLY FOLLOW
#3 Sizzling Fashion Influencers India – Masoom Minawala
Masoom Minawala is a name that transcends the realm of the ordinary when it comes to the best fashion influencers on Instagram.
With a staggering following of over 1.3 million on the platform (as of July 2023), she has become a force to be reckoned with, establishing herself as a fashion brand in her own right.
Masoom's journey of being a fashion curator or a fashion influencer was not easy, it was her determination, passion, and zeal to do something in fashion that helped her reach this position and now, she is known as a global influencer.
She is a highly proficient fashion influencer and even had the honor to walk the red carpet at the Cannes Film Festival, all thanks to L'Oreal Paris. Not only this, she has worked with more than 500 brands in the category of fashion, lifestyle, and beauty.
Her flawless knowledge in the field of fashion merged with her voguish lifestyle has made her one of the most followed fashion influencers, as she often says,
"Be your inspiration, find a purpose, analyze your data, and always enjoy what you are doing".
#4 One of the Top Indian Fashion Influencers on Instagram – Kritika Khurana
Have you ever come across a woman who effortlessly combines travel, vlogging, and a fashion connoisseur, captivating the hearts of her 1.7 million Instagram followers (as of July 2023)?
Look no further than Kritika Khurana, widely known as 'thatbohogirl' on Instagram. But that's not all—she goes beyond just suggesting fashion tips and tricks.
Kritika is a stunning and multi-talented influencer who unveils the true essence of fashion and guides her audience on how to carry themselves with grace on special occasions.
In recognition of her captivating influencing skills, Kritika was bestowed with the prestigious Cosmopolitan Lifestyle Influencer of the Year 2020 Award.
Her remarkable talent extends beyond selecting graceful outfits; she also excels in hairstyling, makeup artistry, and crafting ensembles that leave a lasting impression.
It's no surprise that her Instagram followers are enthralled by her fashion prowess, and her 805K YouTube subscribers (as of July 2023) eagerly await her engaging content.
Kritika Khurana embodies the essence of a true fashion influencers India, effortlessly blending her passions and sharing her expertise with the world.
#5 Female Fashion Influencers India – Komal Pandey
Komal Pandey has one of the most engaging Instagram channels, with her sizzling hot looks and charismatic persona, she has quite a knack to hypnotize anyone with her elegance.
With an Instagram channel of more than 1.9 million subscribers (as of July 2023), she posts marvelous and fascinating fashion-related content where her regal dresses and perfect dresses blend in with opulent fashion accessories encouraging her followers to decorate their wardrobes on similar lines.
Komal also has her own YouTube channel with more than 1.3 million subscribers (as of July 2023) where she posts videos about beauty outfits, budget shopping, fashion therapy, and much more fashion-influencing-related content.
#6 Fashion Influencers India – Santoshi Shetty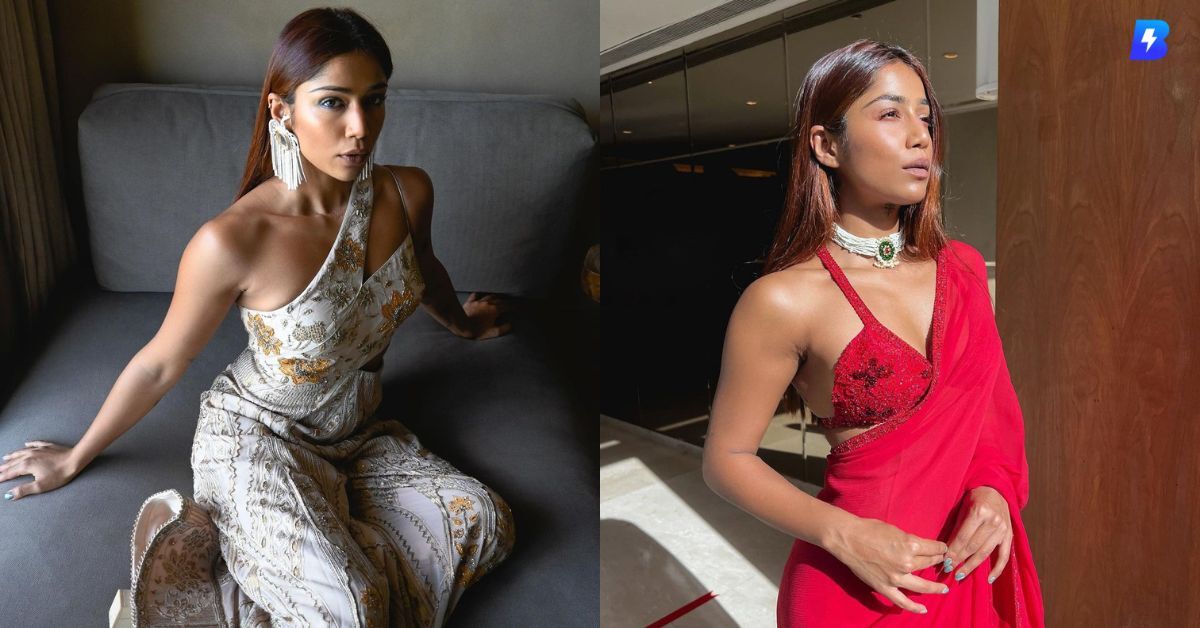 Meet Santoshi Shetty, Instagram's reigning fashion queen.
This 28-year-old Mumbai-born fashion blogger and social media influencer has taken the digital fashion world by storm with her compelling presence and sharp eye for design.
Santoshi's excellent fashion sense and exciting partnerships with well-known brands like Myntra, Nykaa, Forever 21, H&M, and others have cemented her place as one of the top Instagram fashion influencers.
Santoshi Shetty easily wins hearts with her fashion-forward material, as she has 742k followers on Instagram (as of July 2023) and a passionate fan following of over 16k on Facebook (as of July 2023).
Santoshi Shetty's distinct style and clear impact continue to inspire and define the fashion scene in India and beyond.
#7 One of India's Leading Fashion Influencers – Aashna Shroff
Meet Aashna Shroff—the definition of style and beauty.
She is now one of India's most popular Instagram fashion influencers because of her amazing sense of style, stunning good looks, and chic way of living.
Aashna has amassed an outstanding following of over a million on Instagram and more than 180K subscribers on YouTube (as of July 2023) because of her impeccable taste and forward-thinking approach to fashion.
In recognition of her inherent talent for curating breathtaking outfits and effortlessly carrying them with grace, she was just awarded the "Cosmopolitan Luxury Fashion Influencer of the Year 2023 Award."
The path that Aashna Shroff has taken in the fashion industry is an example for aspiring designers and a demonstration of her dedication to innovation.
Aashna has become one of the best fashion influencers on Instagram because of her charismatic stage presence and unparalleled sense of style.
#8 Emerging Fashion Influencers of India – Diipa Khosla
Diipa Khosla is the apex of worldwide Indian fashion influence.
Diipa, who was born in Delhi and now lives in Amsterdam, has made a spectacular niche for herself as a major and one of the top fashion influencers in India in the realm of fashion and beauty.
She is a force to be reckoned with on Instagram, where she has over 1.9 million followers (as of July 2023).
Her journey into the field of influencing began after she graduated from law school, and she has since risen to become one of the top Indian fashion influencers on Instagram.
In addition to her Instagram popularity, Diipa has a booming YouTube channel with over 18K followers (as of July 2023).
Diipa Khosla is more than just a fashion influencer; she is also the creator of Indē Wild, a company devoted to empowering women and advocating a conscious beauty ecosystem that provides accessible and affordable skincare products.
She continues to inspire and make an everlasting impression on the fashion industry, both in India and beyond, with her undying enthusiasm and devotion.
#9 One of the Most Stylish Fashion Influencers – Aakriti Rana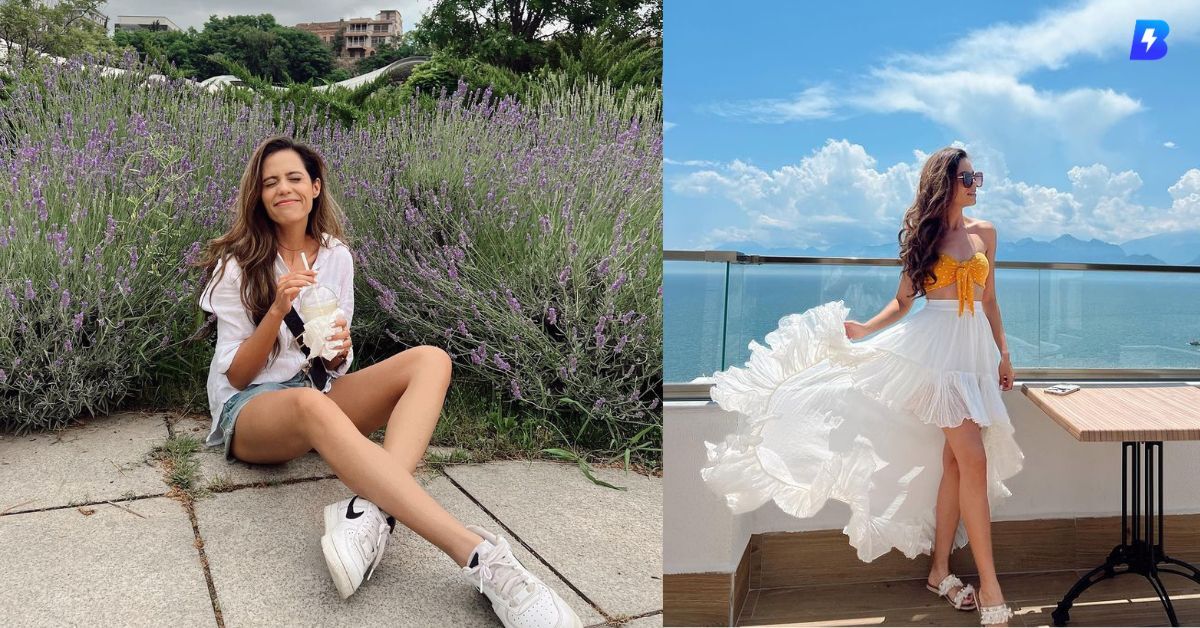 Prepare to be intrigued by Aakriti Rana's varied skills as one of the top fashion influencers in India. Aakriti is a fashion industry powerhouse that works as a YouTuber, stylist, blogger, fashion designer, and model.
Her fashion career began with modeling and blogging, where she worked with prestigious worldwide fashion labels.
Recognizing the importance of digital marketing in today's society, Aakriti decided to teach herself the intricacies of this vital tool, as well as fashion design.
Aakriti entered the world of fashion, lifestyle, and travel blogging in 2014, quickly winning the hearts of fashion aficionados all around the world.
She did not rest on her laurels, and in 2016 she increased her reach by launching her own YouTube channel.
She gives a variety of fashion suggestions, useful information, style guidelines, and so much more on her platform. It's no surprise that Aakriti has a devoted fan base, with 154K YouTube subscribers (as of July 2023) and a whopping 1 million Instagram followers (as of July 2023).
#10 One of the Most Stylish Fashion Influencers – Sejal Kumar
Meet Sejal Kumar, a powerful Indian YouTuber, video blogger, and fashion influencer who has dominated the digital world.
Sejal immediately attracted fans after launching her YouTube channel in February 2014, collecting a stunning following of over 1.4 million members and reaching 200 million views as of July 2023.
Sejal's skill extends beyond her engaging material to music, as she just published her first original song, "Aisi Hun," as part of the Creators for Change project.
This multi-talented influencer has not only created waves online but has also gained significant recognition for her contributions to the fashion and lifestyle industries.
Sejal Kumar received the coveted title of Best Lifestyle Blogger at the Cosmopolitan India Blogger Awards in 2019.
Her Instagram talent was also recognized, as she won the Fashion Account of the Year 2018 Award, followed by the prestigious title of Instagrammer of the Year for Fashion in 2019.
Sejal Kumar continues to inspire and influence numerous people with her YouTube videos, compelling fashion sense, and musical skill, making an unforgettable impression on the fashion and digital environment.
#11 Enthralling Instagram Fashion Influencers – Roshni Bhatia
Prepare to be enchanted by the captivating world of Roshni Bhatia, one of the top Indian fashion influencers on Instagram.
Roshni's career as a renowned Luxury Beauty Blogger and YouTuber has been nothing short of incredible.
From her beginnings as a fashion producer at Popxo to the creation of her own Instagram page, "Thechiquefactor," Roshni has carved out a place for herself in the ever-changing world of fashion and beauty.
Roshni is distinguished not only by her immaculate sense of style but also by her role as a devoted mother to a 12-year-old son, which makes her journey all the more inspiring.
With over 560K Instagram followers ( as of July 2023) and a committed YouTube following of 591K subscribers ( as of July 2023) on her channel "Roshni Bhatia," she easily captivates audiences with her intriguing material, providing insights into the world of luxury beauty.
Prepare to embark on an unforgettable beauty journey as Roshni Bhatia reveals the secrets to looking and feeling fantastic, showing that genuine beauty knows no borders.
#12 Captivating Top Fashion Influencers in India – Gia Kashyap
Get ready to be inspired by the style and creativity of Gia Kashyap, one of the top fashion influencers in India.
Gia has been blogging for almost a decade, and her distinctive voice and immaculate taste have made her a household name in the fashion world.
Gia Kashyap's reach is limitless because to her massive 166K Instagram followers (as of June 2023). She has a huge following on Instagram, but she also has her own successful YouTube channel, appropriately titled "Gia Kashyap," where she shares her knowledge and advice in the fashion industry with her viewers.
As Gia Kashyap takes you on a trip packed with style, inspiration, and genuine enthusiasm for all things fashion, prepare to be immersed in a world of fashion-forward material.
#13 One of the Best Fashion Content Creator – Sakshi Sindwani
Sakshi Sindwani is one of the best fashion influencers on Instagram, pushing for body and size positivity.
She began her video making adventure on YouTube in 2017, and by July 2023, she had amassed a subscribers of 97K whereas on her Instagram channel, "stylemeupwithsakshi" she has over 567K (as of July 2023) followers.
Sakshi's inclusive modeling has led to her being the first woman to walk the runway for designers such as Manish Malhotra and Tarun Tahiliani. Sakshi's lack of representation and bullying as a child in Delhi drove her body sensitivity.
The creation of content provided her a voice and acceptance. Sakshi's goal is to reinvent beauty standards while also advocating diversity in media and entertainment.
She selects brands that reflect her ideals, concentrating on the message more than the price.
Sakshi, known for her bravery and impact, intends to create honest fashion content, collaborate with brands, and start her own brand in 2023.
She believes in the importance of honesty and encourages others to embrace their peculiarities and uniqueness.
Sakshi Sindwani's path encourages others to dream big and break conventional standards, while her significant platform spreads positivity and inclusion.
Summing Up!
In the fascinating world of Indian fashion influencers on Instagram, these individuals have become lights of fashion, inspiring new looks and altering our perspectives on the industry.
These celebrities have changed the way we think about what constitutes beauty and style, from exhibiting magnificent ensembles to advocating for body positivity and inclusion.
As the top fashion influencers in India, they have changed the face of fashion with their innovative ideas and devoted fan base, inspiring millions to be themselves.
Fashion has the ability to elevate, inspire, and unite us all in a colorful tapestry of self-expression, as we are reminded as we peruse their accounts.
ALSO READ: Top 5 Motivational Speakers of India, their POWER of WORDS will MAKE you INSPIRE