You may love food but you cannot call yourself a real food lover if you do not follow any of these food bloggers.
These food bloggers have not only shown their love for food but have also shared various minute details about the food that they talk about.
These bloggers have traveled the world and tried all kinds of famous as well as not so famous food items to know the real taste, history, recipes and to know the culture from where these food items come from.
So, check out our list of Top 5 Indian Food Bloggers gathered after an extensive research, Hope your 'taste buds' likes it
Food Blogger #1 – Archana's Kitchen
If you are a homemaker and are fed up with constant bickering on the dining table that you don't cook new dishes, well Archana's Kitchen brings you the perfect answer concerning traditional homemade recipes, which every homemaker can apply in their mundane and monotonous cooking lifestyle, and impress the house members with some 'taste-tickling' dishes.
Archana's Kitchen was founded by Archana Doshi in 2007 who wanted to preserve her family lineage through its rich, delicious, and enthralling recipes. When it comes to food, Archana leaves no 'dish unturned' through her website where she regularly uploads videos of her making some mouth-watering dishes whether it's your Fudge Chocolate Brownies, Kongunad Chicken Fry, or your Sattu ka Paratha recipes, Archana's Kitchen has a plethora of options, it depends on what you put on today's menu, North India, Mexican, Chinese, Continental, or Mughlai.
MUST READ: Top 7 Travel Vloggers of India, which will leave you MESMERIZED with their EXPERIENCES
Food Blogger #2 – Rocky and Mayur
Want to go on a food expedition across India and experience some of the exciting and tasty dishes prepared at street corners, well Rocky and Mayur can be your guides in this delicious journey.
Rocky Singh and Mayur Sharma rose to fame with the food and travel Tv show Highway on my Plate, where they gained the best culinary experiences while travelling on the National Highways of India.
Their witty humour and food punches have made them popular across the nation, and more than that the vast knowledge they portray regarding the meals they consume is just amazing. Another interesting fact about the duo is Rocky adores non-vegetarian food while Mayur is a hardcore vegetarian.
If you want to experience the real taste of India, you must check out Rocky and Mayur food travelogues.
MUST READ: Top 5 Female Fashion Influencers of India, which will Up Your Style Quotient
Food Blogger #3 – Mallika Basu
Mallika Basu is a popular name in food blogging who brings a perfect blend of Indian cuisine with western culture. Despite being from a political family and having a Master's degree in journalism, she initially learnt cooking only for her sustenance but soon found a hidden passion for food and developed her food blogging website.
She has innovatively established a trend for common Indian dishes like Chana Masala, Poha Chivda, Vegetable Dal, and much more with a pinch of westernisation and has completely given such dishes a new, exotic, and tastier look.
MUST READ: TOP 5 Digital Marketing Influencers of India, whose EXPERTISE will completely CHANGE your DIGITAL OUTLOOK!
Food Blogger #4 – Nisha Madhulika
Every Indian food aficionado must have either heard or watched Nisha Madhulika's YouTube channel which deals with purely vegetarian dishes. Nisha's culinary expertise over simple homemade dishes has made her one of the YouTube superstars known to make delicious looking delicacies and snacks quite easily.
The striking point for Nisha stands out to be the connection which she established with her viewers, the motherly love and simplicity with nurturing feeling make her a stand out food enthusiast and it's quite evident from her dishes like Chana Dal Snack, Kachori, Til Mawa Barfi, and more dishes which are not only delectable but also healthy at the same time.
MUST READ: Top 5 Motivational Speakers of India, their POWER of WORDS will MAKE you INSPIRE
Food Blogger #5 – Veggie Paaji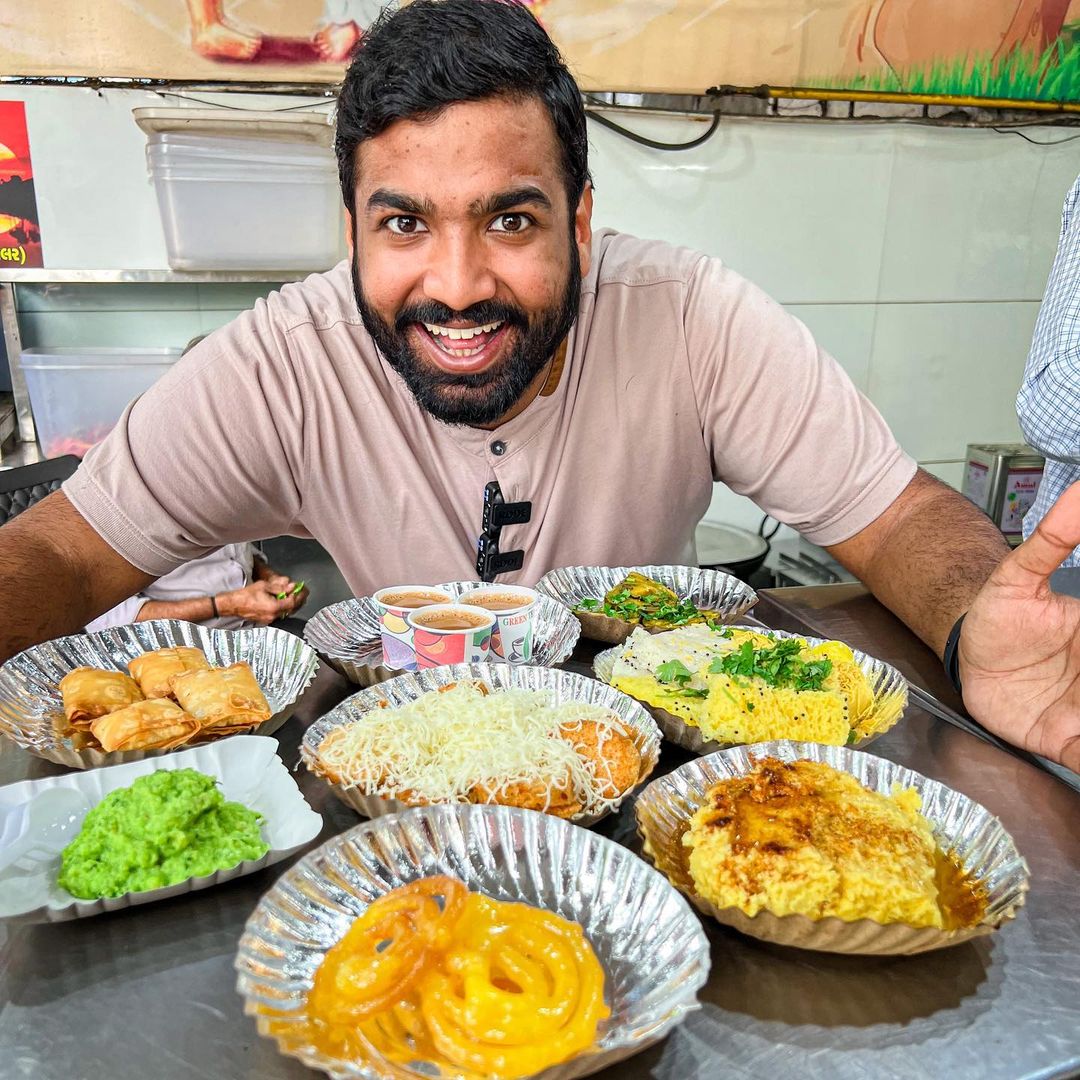 Veggie Paaji a.k.a Tanmay Sharma a renowned and famous food and travel enthusiast loves to make videos of Indian veg food being prepared at fast food joints or the corners of the road. Started it as a fun-loving activity, now Veggie Paaji has become one of the most followed YouTubers in terms of food.
If you have cravings for some of the tastiest street foods and are out of options, you must follow Veggie Paaji in his journey to experience all around India's famous street dishes starting from the samosas, the kachoris, the momos, to packed eateries, Veggie Paaji has tasted it all. Do follow him to hear his comments.
MUST READ: Top 7 Tech Vloggers of India with a YouTube Channel of More than 1 Million Subscribers!
MUST READ: TOP 7 Gaming YouTubers of India, which will REIGNITE your Love for GAMES!
MUST READ: TOP 7 STOCK MARKET Influencers/Bloggers/Youtubers of India, which will HELP you to ADD VALUE to your MONEY
MUST READ: TOP 5 Female Yoga Experts and Influencers of India, which will Help you to Enlighten your CHAKRAS!
MUST READ: TOP 8 Entrepreneurs of India, which will HELP you to WRITE your OWN Success STORIES!
MUST READ: Top 7 Health Influencers of India, who will Take your Fitness to a NEXT LEVEL!