How to Invest in Stocks as it's too risky and volatile, have always been a dilemma in the minds of people whenever they decide on an investment. However, the COVID-19 pandemic found everyone short on cash and gave a chance to go through their financials and logistics and reach a decision that rational investment is the best way out when the world is going through an economic crunch.
To make your life easy, we have compiled a list of Top STOCK MARKET Influencers/Bloggers/Youtubers of India, which will pave a financial secured path for your smooth stock market investing.
#1 Stock Market Youtuber – Akshat Shrivastava
Akshat Shrivastava through his YouTube channel provides meaningful content on the lines of business and investment. Since, his childhood he was passionate about the whole money-making process and always wanted to make a career out of it, which led him to become a popular 'Management Consultant' and a 'Career Development Coach' who know aims to make some interesting financial related content which is 1-year-old son Zayn, would be proud of when he grows up.
His YouTube channel has reached almost 7.5 lakhs subscribers and made him one of the popular Stock Market YouTubers, and his videos focus on educating his viewers about investing for beginners, neo banking, cryptos, market macros, and much more.
If you are new in the stock market and financing and want a quick start-up guide, watch his YouTube channel with the name 'Akshat Shrivastava'.
READ: Top 5 Food Bloggers of India which you all should INSTANTLY FOLLOW
#2 Stock Market Blogger – Trade Brains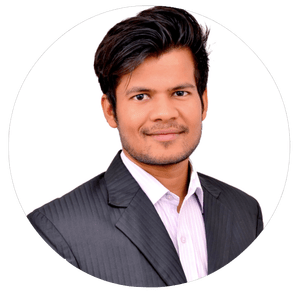 Trade Brains is a start-up that has made the stock market a non-risky platform for all the potential retail investors out there, by publishing numerous blogs on the lines of stock market jargon, how to understand equity and financial market, fundamentally strong companies, and up to the minute stock and market-related news which could help an individual's decision making process and reduce the risk factor which is generally involved with it.
Trade Brains was founded by fintech entrepreneur and stock investor Kritesh Abhishek who wants to bring the 'World of Stock' to people, he wants to remove the perception of risk from the stock market educate people about its merits and make a fortune out of it with a hint of rational steps.
READ: Top 7 Tech Vloggers of India with a YouTube Channel of More than 1 Million Subscribers!
#3 Stock Market YouTuber – Pranjal Kamra
Pranjal Kamra takes pride in his investing skills and decisions and believes that his insights and knowledge which he passes on through his YouTube channel can help retail investors to make significant returns from their money invested.
Pranjal Kamra with his 3.5 million YouTube subscribers also is a co-founder of Finology Ventures Pvt. Ltd where he wants to add the concept of rationality in stock investing, promoting detailed stock market analysis and focusing on behavioural finances.
Pranjal in his YouTube channel heavily talks on financial planning and advanced stock market courses through which he has cemented his position as one of the most viewed Stock Market YouTubers of India.
READ: Top 5 Motivational Speakers of India, their POWER of WORDS will MAKE you INSPIRE
#4 Stock Market Influencer – Trading With Vivek
Vivek Singhal has become quite a known name in the field of stock marketing, all credit to his impeccable stock trading skills and spot-on analysis. Through his YouTube channel, 'Trading with Vivek', he educates individuals to make their own investment decisions where he guides them with stock market basics, personal finance and also provides a free Stock Market Course on his channel.
He is also a Stock Market Blogger, where he promotes smart trading decisions on his website and has built a loyal customer base of retail investors who look up to him for stock trading advice.
READ: Top 7 Travel Vloggers of India, which will leave you MESMERIZED with their EXPERIENCES
#5 Stock Market YouTuber – Invest Aaj For Kal
As the name suggests 'Invest today for tomorrow', is one of the popular stock market-related YouTube channels with more than 7 lakh subscribers. It was created by Anant Ladha who has quite a knack for finance and investment in the year 2013.
Anant Ladha, a notable Stock Market YouTuber of India; in his channel familiarizes the viewers about the concepts of the stock market, investments, market trends, bonds, cryptocurrencies, share trading, best shares to invests and investor behavioural analysis, as he is an avid learner of financial and equity market, and adores sharing the same.
But, he has categorically written in his channel that his videos are based on his understanding of the market and are only for educational purposes, if someone still wants to invest they must consider a financial advisor because money is not meant to be wasted.
READ: Top 5 Female Fashion Influencers of India, which will Up Your Style Quotient
#6 Stock Market YouTuber – Parimal Ade
Parimal Ade is one of the earliest content creators on YouTube to promote Stock Marketing and give detailed knowledge about various facets of stock investment and finance. And, to make personal financing easy, interesting, and fun, he co-founded the website 'investyadnya.in'.
His bilingual approach (English and Hindi) while uploading content on the stock market is very well received by his viewers, and they appreciate his content consisting of stock market guide for beginners, investment satsang, stock market news, and especially his enlightening Q&A sessions which have brought wonders in the life of retail investors.
Parimal Ade owing to his vast knowledge in the field of investment and the stock market and the content worth more than 500 videos which he has created to date, would make his feature in anyone's list of Top 10 Stock Market YouTubers/Influencers of India.
READ: Top 7 Health Influencers of India, who will Take your Fitness to a NEXT LEVEL!
#7 Stock Market Influencer – CA Rachana Phadke Ranade
Rachana Ranade a prominent and strong female figure and influencer in the field of Stock Marketing started her YouTube journey way back in 2009 with her channel CA Rachana Phadke Ranade which now has more than 3 million YouTube subscribers. Also, she is recognized in the finance content creating industry as a decorated Female Stock Market Influencer of India.
She aimed to break down the complexities of the Indian financial market and develop a culture of investing among the masses.
It's been almost more than a decade for Rachana in her journey to educate people about financing and the stock market, and develop a sort of rational investment acumen in them, moreover, in her channel, she covered almost every aspect of the stock market whether is mutual funds, stocks, SIP, IPO, sector-wise stocks, and even created a separate playlist for women and introduce them to the world of financing and stock trading.
READ: TOP 5 Female Yoga Experts and Influencers of India, which will Help you to Enlighten your CHAKRAS!
READ: TOP 8 Entrepreneurs of India, which will HELP you to WRITE your OWN Success STORIES!