2021 was one hell of a year. The world saw some good times and some really really bad times. When it comes to India, movies are one of the biggest sources of fun and happy times.
When an Indian family is watching a movie, they forget their bad times and open up to a smile. No wonder, the Indian movie industry is one of the biggest in the world and launches the most number of movies in a year.
There are hundreds of movies that are released in any year but not all leave a mark.
We bring you a list of some selected Bollywood movies of the year 2021 that were unforgettable
Best Bollywood Movie of the Year 2021 #1 – Shershaah
A must watch biographical war film dedicated to the life of courageous and marvellous Captain Vikram Batra, whose journey to greatness has been displayed exceptionally well by the lead actor Sidharth Malhotra.
The movie narrates the story of Captain Vikram Batra and accentuates the events which shaped his life towards the service of the nation in the best possible way which was by becoming a soldier.
It's a wonderful treat for those who love movies with a notion of patriotism and even for those who are looking for an action-packed emotional ride with melodramatic songs. Shershaah tops our list of the Best Bollywood Movie of 2021 with a remarkable cast consisting of Sidharth Malhotra, Kiara Advani, Shiv Panditt, and Nikitin Dheer in the leads.
Best Bollywood Movie 2021 #2 – Bell Bottom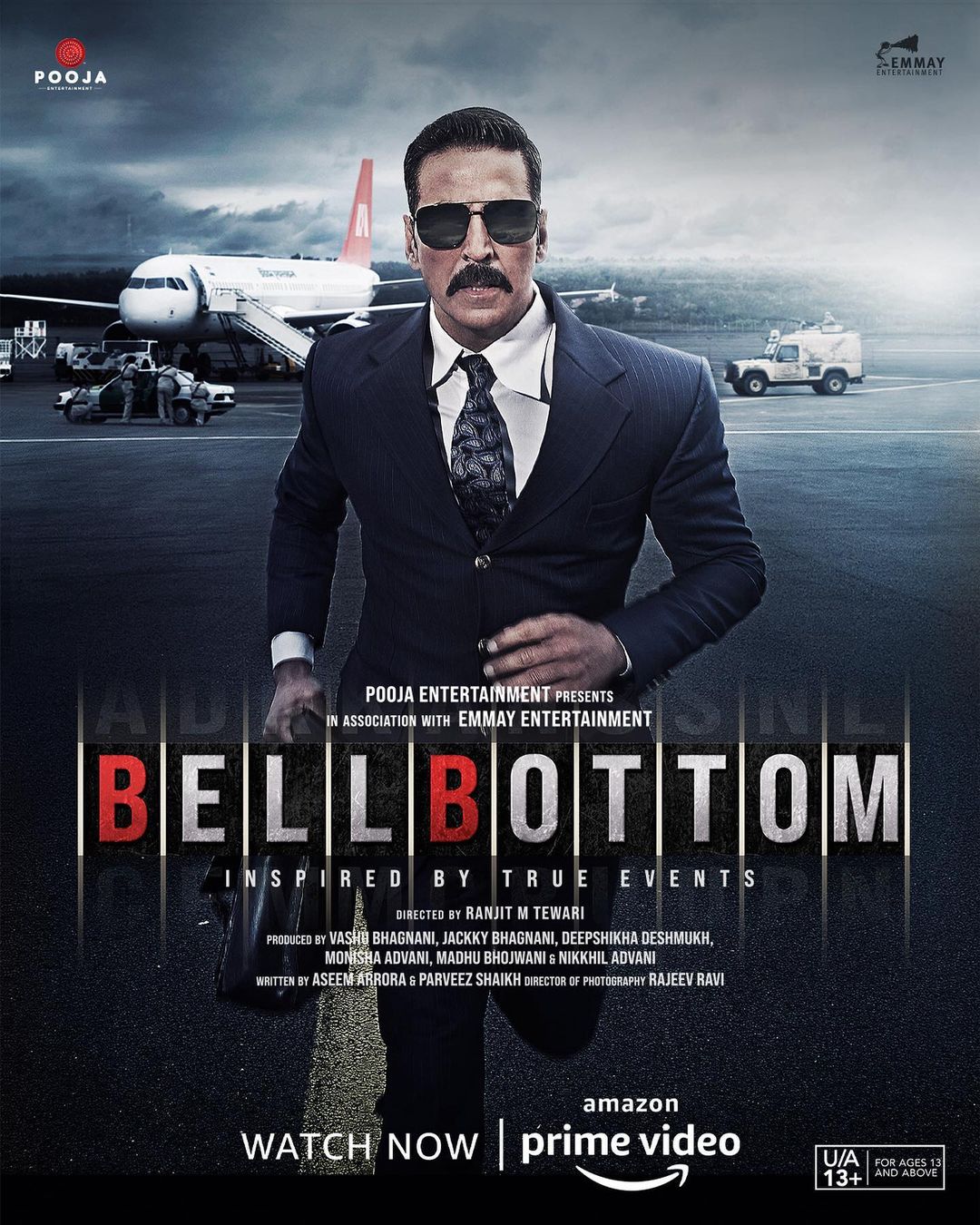 Bell Bottom is another feather in the cap of the Akshay Kumar franchise, where emotion, drama, thrill, action, and excitement all blend to provide viewers with an exquisite experience of amazement.
Set in the Indira Gandhian era of 1984, Bell-Bottom narrates the Indian Airline hijacking story comprising of twists and turns, and ultimately how Akshay Kumar a.k.a Agent Bell Bottom with his team safes the hostages from the terrorists by using his wit and exceptional spying skills.
Bell Bottom comprises a huge cast; consisting of some of the finest actors of the industries like Lara Dutta, Vaani Kapoor, Adil Hussain, Huma Qureshi, Aniruddh Dave, and Dolly Ahluwalia.
The film despite having a gripping storyline and phenomenal cinematography was unable to pass the test of the box-office with flying colours as against the budget of Rs.170 crores it had a global collection of Rs.50.58 crores.
However, for its impeccable action and tremendous acting skills, it deserves to be watched by the audience at least once.
Bollywood Movie #3 – Sooryavanshi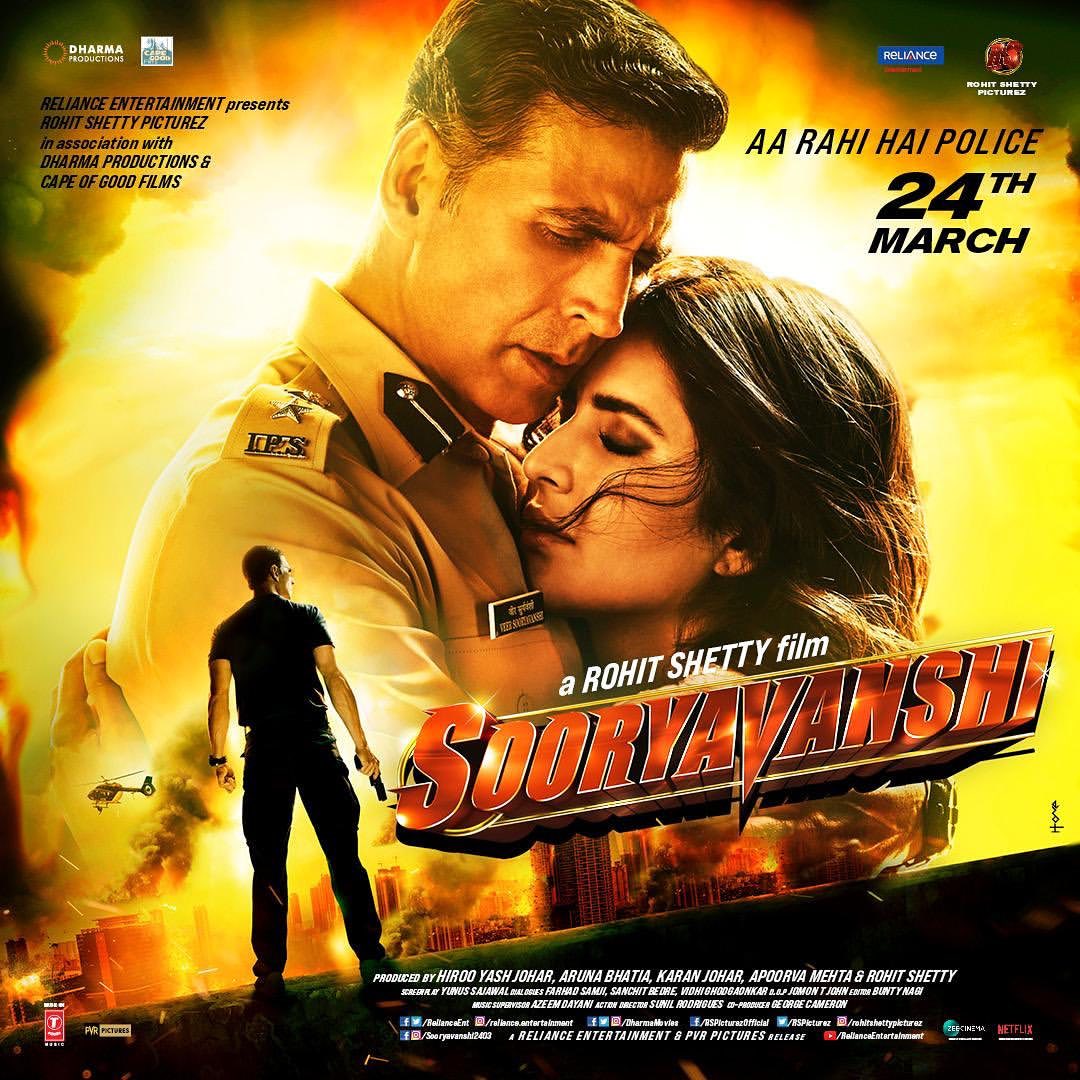 A family packed entertaining action movie belonging to Rohit Shetty's cop universe is the highest-grossing Bollywood movie of 2021. The movie is nothing short of a magnificent experience full of the cardinal three words Entertainment! Entertainment! Entertainment!
The movie is set in the backdrop of the 1993 Mumbai terrorist attack where it shifts its focus to the present as another threat of terrorist attack lingers on Mumbai and this time it's expected to be bigger and more severe than 26/11, however, the responsibility is on the shoulders of DCP Veer "Surya" Sooryavanshi to protect his city from a grievous bloodbath and in his mission, he gets the support of one of the finest cop Inspector Bajirao M. Singham and the notorious Inspector Sangram Bhalerao a.k.a Simmba.
Well, how things pan out in the end, whether the trio of Sooryavanshi, Singham and Simmba can protect their beloved city or the terrorist succeed in their mission, all remain a mystery, well to unlock this mystery, the movie becomes a must watch just for amazing fast-paced action sequences and Rohit Shetty's meticulous directorial skills.
Its cast consists of Akshay Kumar and Katrina Kaif in the leads, followed by Jaaved Jaaferi, Vivan Bhatena, Niharica Raizada, Jackie Shroff, and Abhimanyu Singh in the significant roles. Alongside, Ajay Devgn and Ranveer Singh in extended cameo appearances.
Bollywood Movie #4 – Antim: The Final Truth
Antim is a typical Salman Khan starrer action thriller movie having all the 'Bhai' elements from whistleblowing dialogues to action sequences with six-pack chiselled bodies.
The movie revolves around 'Rahulya' an innocent child of a gullible farmer whose circumstances and wrongdoings makes him one of the fearsome gangsters of the town.
The introduction of Inspector Rajveer Singh, and how things go out of hands by Rahulya gives the film an interesting tone.
Antim owing to its fascinating action and nail-biting thrills and betrayal marks it as one of the Best Movies of 2021 with the cast of Salman Khan, Aayush Sharman, Mahima Makwana, and Nikitin Dheer.
ALSO READ: 5 Unknown Facts of Antim Actress Mahima Makwana
Bollywood Movie #5 – 83
When emotions become language, when underdogs become legends, when dreams become reality, when adversity becomes an opportunity, and when losses become victory, it all combinedly scripts the history which is narrated generation upon generation.
The movie 83 is made on similar lines which recreates the iconic victory of India in the 1983 Cricket World Cup led by the legendary and phenomenal all-rounder Kapil Dev.
The Indian Men's Cricket team under the leadership of Kapil Dev was considered the least favourites to win the tournament, and that too against the mighty West Indies in the finals at Lord's.
The inspirational roller-coaster emotional ride with ups and downs of Indian cricket comprising of Kapil Dev's best knocks in a World Cup of 175 Not Out against Zimbabwe in a must win-situation, Mohinder Amarnath's all-round performance with bat and ball in World Cup Semis and Finals, Roger Binny's crucial wickets at regular intervals, Srikkanth's aggressive batting, and Kirmani's flawless wicket-keeping skills, all consolidated the biggest upset in the history of World Cricket and showed the character, grit, and determination of the Indian Cricketers.
83 becomes a must watch not only for its World Cup wins but also for its ensemble cast which immaculately copied the cricketing legends to their last quirks. The cast consisted of Ranveer Singh, Tahir Raj Bhasin, Jiiva, Saqib Saleem, Jatin Sarna, Sahil Khattar, Pankaj Tripathi, Deepika Padukone, and Ammy Virk.
I hope you liked our small compilation of the 5 Best Bollywood Movies of the Year 2021