Angelina Jolie Bio
Have you ever wondered about the enigmatic force that lies behind the silver screen, captivating audiences with her sex appeal, edginess, and unparalleled acting prowess?
A woman whose name echoes across the realms of Hollywood, philanthropy, and filmmaking alike?
If so, then let us delve into the remarkable journey and biography of Angelina Jolie which consists of Angelina Jolie Age, Height, Place of Birth, and more.
Jolie is an American actress, filmmaker, and humanitarian whose brilliance knows no bounds.
Born Angelina Jolie Voight on June 4, 1975, this luminous starlet emerged as a force to be reckoned with in the world of cinema.
Her raw talent was recognized and celebrated with an Academy Award for her spellbinding supporting role as a mental patient in "Girl, Interrupted" (1999).
Angelina's portfolio boasts a diverse array of unforgettable performances, from the heart-pounding action of "Wanted" to the electrifying chemistry with co-star Brad Pitt in "Mr. and Mrs. Smith."
But her talents extend far beyond her work on-screen. Angelina Jolie has graced the director's chair, leaving an indelible mark with films such as "In the Land of Blood and Honey," "Unbroken," and "By the Sea."
Her visionary direction has earned her accolades, adding yet another dimension to her impressive profile.
Beyond the glitz and glamour of Tinseltown, Angelina Jolie is equally renowned for her philanthropic endeavors.
As a Goodwill Ambassador for the UN Refugee Agency, she has championed numerous international charity projects, particularly those centered around refugees. Her dedication to making a positive impact on the world has earned her admiration and respect from all corners.
While her professional accomplishments are undeniably awe-inspiring, Angelina Jolie's personal life has also been a subject of fascination.
Her high-profile marriage to actor Brad Pitt and the birth of their beautiful children, including Shiloh, Knox, and Vivienne, have been the subject of media frenzy.
Angelina was also seen in the 26th film of Marvel Cinematic Universe, titled Eternals alongside Gemma Chan, Richard Madden, Salma Hayek, and Kit Harington.
In 2023, Angelina Jolie continues to shine as one of the most powerful and influential individuals in the American entertainment industry.
Her journey is a testament to the extraordinary heights one can reach when passion, talent, and compassion converge.
But the tale of Angelina Jolie does not end here. What is Angelina Jolie height and current age , you may ask?
What does the year 2023 hold for Angelina Jolie net worth? These questions will unveil even more layers to this remarkable woman, making her story all the more intriguing and inspiring.
Angelina Jolie Biography
Name: Angelina Jolie
Known For: Played the role of 'Lisa Rowe' in the critically acclaimed movie Girl, Interrupted, 'Lara Croft' in the titular film Lara Croft: Tomb Raider, and directed the American war film named Unbroken.
Angelina Jolie Date of Birth: 4 June 1975
Angelina Jolie Age: As mentioned above, Angelina Jolie was born on June 4, 1975, which makes Angelina Jolie age, 48 years old (as of July 2023).
Angelina Jolie Height: According to reports, Angelina Jolie height is 5 feet 6 ½ inches or 169 cm or 1.69 m.
Angelina Jolie Weight:
Angelina Jolie weight has been the subject of conflicting claims from various sources. She weighs around 54 kg or 119 pounds, according to a top Magazine.
But, another popular website has cited a different Angelina Jolie weight of around 44kg (98 pounds), which appears to be disproportionate to her height.
However, another source states that she weighs 45 kg (100 pounds), whereas some mention her weight to be 54 kg.
Angelina Jolie Body Measurements:
According to several sources, Angelina Jolie body measurements are as follows:
Breast size: 36 inches (91.5 cm) 
Waist size: 27 inches (68.5 cm) 
Hip size: 36 inches (91.5 cm) 
Bra size: 34C
Angelina Jolie Eye Colour:
Angelina Jolie has blue eyes, which are regarded to be among the most attractive in the world. However, other accounts claim that Angelina Jolie eye colour are mostly hidden owing to her predominant use of colored contacts which give her eyes a brighter blue or green.
It's unclear whether she uses colored contacts on a daily basis.
Angelina Jolie Hair Colour: Dark Brown
Angelina Jolie Nationality: American
Zodiac Sign/Star Sign: Gemini
Known Languages: English
Religion: Christianity
Favorite Foods: Fast Food, Cheerios, and McDonald's
Favorite Perfume: Carolina Herrera
Favorite Pet: Bulldog
FavouriteTv Series: Animal Planet, and King Of The Hill
Favorite Colour: Black
Favorite Musicians: The Clash, and Matchbox 20
Favorite Book: Vlad The Impaler – In Search Of The Real Dracula by M.J. Trows
Favorite Drink: Tequila
Hobbies: Collecting First Edition Books, and Dagger
Angelina Jolie Net Worth:
Angelina Jolie net worth 2023 is estimated to be at $120 million, according to several sources. This enormous fortune is the result of her diverse career as an actress, director, and humanitarian. Throughout her lengthy career, she has amassed millions of dollars from film earnings, sponsorships, and shrewd investments.
Angelina Jolie net worth reflects not just her exceptional accomplishment in the film world, but also her continuous commitment to humanitarian causes.
However, it's important to remember that Angelina Jolie net worth 2023 statistics might change over time, impacted by a variety of things such as her job ambitions and investing decisions.
Marital Status:
Angelina Jolie's marital status has changed multiple times throughout the years.
According to the most recent information, Angelina Jolie is now divorced from actors Jonny Lee Miller, Billy Bob Thornton, and Brad Pitt.
Her first marriage lasted from 1996 to 1999 to Jonny Lee Miller.
From 2000 until 2003, she was married to Billy Bob Thornton. However, it was Angelina Jolie marriage to Brad Pitt in 2014 that received the most media attention. Unfortunately, in 2019, that union ended in divorce.
Children: 6
Nationality: American
Angelina Jolie Place of Birth: Los Angeles, California
Currently Living: Mansion Los Feliz, California
Angelina Jolie Controversies
The relationship of Angelina Jolie with her father Jon Voight, has always remained tainted and hostile. Things took a drastic turn when her father in an interview revealed that he already knew Angelina's marriage with Billy Bob Thornton would be a disaster. He further went on to say the most appalling thing about his daughter and mentioned that she had serious mental problems and was unfit to raise or adopt a child. Angelina was very disappointed, after hearing such words from her father who said that it would jeopardize the legal procedure of adoption.    
A news source in 2004 confirmed that Angelina while filming Mr. & Mrs. Smith alongside her dashing superstar Brad Pitt developed an intimate bond. Her strong chemistry and closeness with Brad was the reason which affected his happy married life.
Brad in 2004, was married to popular actress Jennifer Aniston but soon divorced her in the next year owing to her blooming relationship with Angelina Jolie.
In 2006, Angelina and Brad officially confirmed their relationship and soon were expecting their first child as well.
After Angelina divorced Brad Pitt, all the media personnel stormed to their house to record their statements which led to their split up. Though, both the actors were quiet for some time and refused to say anything.
Finally, Angelina broke her silence and revealed that he was abusive throughout their marriage and often resorted to violence against their six children. It made her petrified and to ensure the children's safety she got separated from him.    
Angelina Jolie and Brad Pitt were embroiled in a dispute over their French winery in July 2023. According to Jolie's cross-complaint, Pitt's behavior was violent before they even boarded the plane, and he had a "confrontation" with their son Maddox. Pitt filed a lawsuit against Jolie in February, saying that she breached his "contractual expectations" by selling her part in their vineyard to Tenute del Mondo.
Interesting Facts about Angelina Jolie
In her childhood, she was known as Angelina Jolie Voight and her parents both were renowned actors of Hollywood.
Despite her father being an Academy Award Winner, at her mother's insistence, she decided to become a model at the age of 11.
She was bullied and body-shamed in her High School and her classmates also taunted her for not being rich like them.
After her parent's divorce, she did not have a healthy and cordial relationship with her father which led her to drop her father's name and she was further known as Angelina Jolie.
Jolie's 1993 film Cyborg 2 was a commercial disaster and everyone doubted her acting skills, but her television portrayal of 'Cornelia Wallace' in the two-part miniseries titled George Wallace soon established her on the pedestal of greatness as she bagged the Golden Globe Award for Best Supporting Actress – Series, Miniseries or Television Film.
Jolie's other television film Gia turned out to be a critically acclaimed film owing to her versatility and sublime performance, she also received her second Golden Globe Award and was also awarded the Screen Actors Guild Award for Outstanding Female Actor – Miniseries or Television Movie.
Angelina is also a trained, licensed, and passionate pilot, and in 2004 she bought a plane Cirrus SR22-G2, to continue her passion.
While shooting for her film Lara Croft: Tomb Raider in Cambodia, it brought a drastic change inside her, the experience of war and poverty in the country shifted her focus to humanitarian work and she soon contacted the United Nations High Commissioner for Refugees, for their intervention and help.
She is a phenomenal social activist and has raised numerous issues from child education to cancer awareness for the betterment and welfare of society.
Jolie's split from her husband Jonny Lee Miller took a huge toll on her mental health and she suffered a nervous breakdown and had to spend 3 days in a psychiatric ward.
In 2020, Angelina Jolie was placed at the 99th position by Forbes in its list of the World's Highest-Paid Celebrities and she was one of the second actresses from Hollywood to feature on that list, the other being Sofia Vergara. The list also featured other decorated celebrities' names like Kylie Jenner, Jennifer Lopez, and Katy Perry.
She has always been vocal regarding the noble cause of adoption and with her then-husband, Brad Pitt adopted three children named Maddox, Pax, and  Zahara.
In an interview, she revealed that she has Bell's palsy, which has caused one side of her face to droop.
Apart from Marvel Cinematic Universe's Eternals where she portrayed the role of 'Thena' alongside actors like Don Lee, Harish Patel, Lia McHugh, and Lauren Ridloff. She also reprised the titular role of 'Maleficent' in the film 'Maleficent 3'.
Jolie has at least 14 tattoos on her body.
Angelina Jolie Quotes
1. What nourishes me also destroys me.
2. I do believe in the old saying, 'What does not kill you makes you stronger.' Our experiences, good and bad, make us who we are. By overcoming difficulties, we gain strength and maturity.
3. Without pain, there would be no suffering, without suffering we would never learn from our mistakes. To make it right, pain and suffering is the key to all windows, without it, there is no way of life.
4. If you don't get out of the box you've been raised in, you won't understand how much bigger the world is.
5. Our diversity is our strength. What a dull and pointless life it would be if everyone was the same.
6. I've been reckless, but I'm not a rebel without a cause.
7. There's something about death that is comforting. The thought that you could die tomorrow frees you to appreciate your life now.
Angelina Jolie Movies, Television Films, and Music Videos
| | |
| --- | --- |
| Movies | Year |
| Lookin' to Get Out | 1982 |
| Cyborg 2 | 1993 |
| Hackers | 1995 |
| The Bone Collector | 1999 |
| Girl, Interrupted | 1999 |
| Gone in 60 Seconds | 2000 |
| Lara Croft: Tomb Raider | 2001 |
| Original Sin | 2001 |
| Lara Croft: Tomb Raider – The Cradle of Life | 2003 |
| Mr. & Mrs. Smith | 2005 |
| Changeling | 2008 |
| Salt | 2010 |
| Maleficent | 2014 |
| Maleficent: Mistress of Evil | 2019 |
| Those Who Wish Me Dead | 2021 |
| Eternals | 2021 |
| Kung Fu Panda 4 (Master Tigress voice) | 2024 |
| Television Films | |
| True Women | 1997 |
| George Wallace | 1997 |
| Gia | 1998 |
| Music Videos | |
| Stand by My Woman | 1991 |
| Rock and Roll Dreams Come Through | 1993 |
| Anybody Seen My Baby? | 1997 |
| Did My Time | 2003 |
Awards Won by Angelina Jolie
| | |
| --- | --- |
| Awards | Year |
| Golden Globe Awards – Best Supporting Actress – Series, Miniseries or Motion Picture Made for Television | 1998 |
| Screen Actors Guild Awards – Outstanding Performance by a Female Actor in a Motion Picture Made for Television or Miniseries | 1999 |
| Golden Globe Awards – Best Actress in a Miniseries or Motion Picture – Television | 1999 |
| Screen Actors Guild Awards – Outstanding Performance by a Female Actor in a Supporting Role in a Motion Picture | 2000 |
| Golden Globe Awards – Best Supporting Actress – Motion Picture | 2000 |
| Academy Awards – Best Supporting Actress | 2000 |
| Teen Choice Awards – Choice Movie Actress: Action | 2005 |
| Academy Awards – Jean Hersholt Humanitarian Award | 2014 |
Affair/Boyfriend(s) of Angelina Jolie
Anton Schneider – Angelina Jolie when she was merely 14 years old, fall in love with her friend Anton Schneider. Jolie's mother Marcheline, was completely happy with her daughter's decision and even invited Anton to stay with them. But, the teenage love wasn't strong enough and both had to end their relationship and concentrate on the new adventures of life lies ahead.
David Mayer de Rothschild – Angelina Jolie was said to be dating David Mayer de Rothschild, a British millionaire, as of March 2023. They were photographed laughing together in Malibu. It's unknown if they're still together or not. She has also been linked to other men, including a billionaire and a real estate agent. Angelina Jolie profile and personal life have received a great deal of attention, and her relationships have been widely watched by the media.
Angelina Jolie Family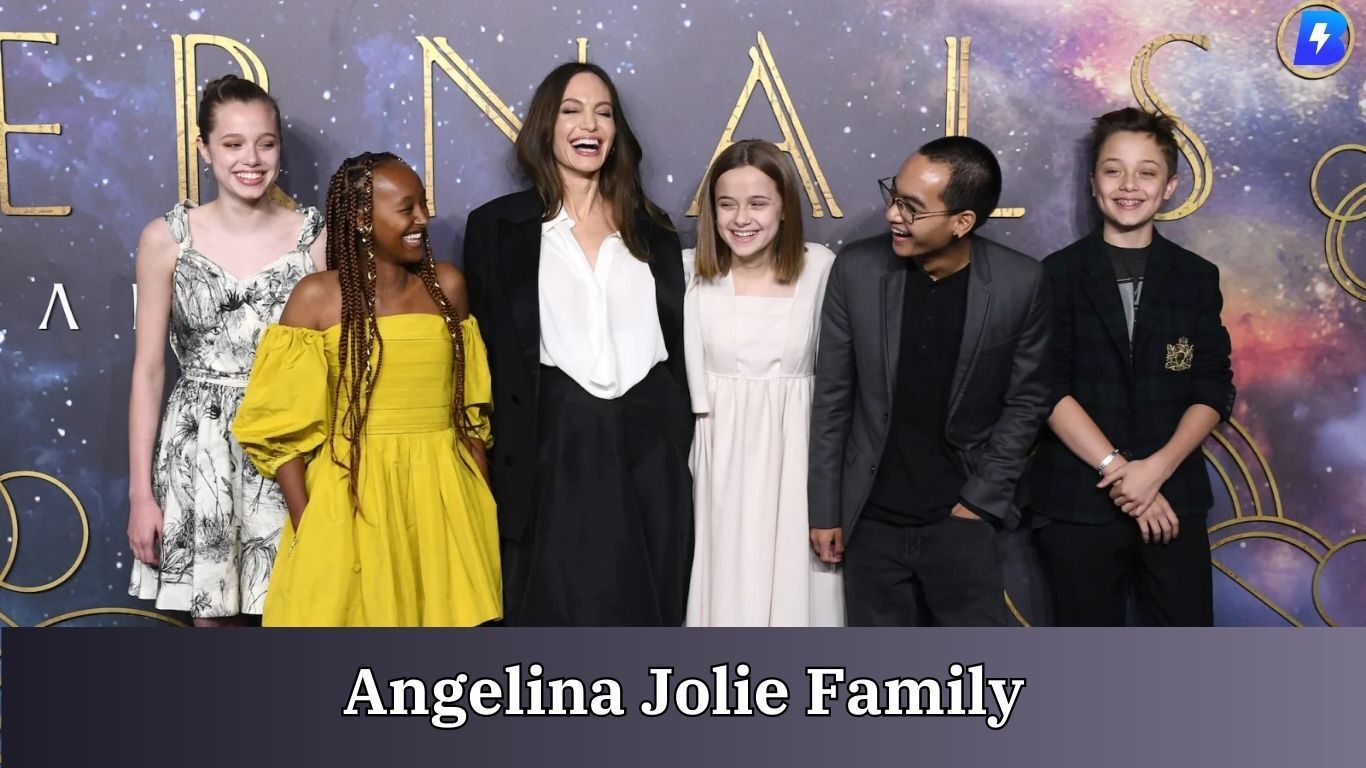 Father- Jon Voight
Mother- Marcheline Bertrand
Brother- James Haven
Ex-husbands: Jonny Lee Miller (m.1996, div.1999), Billy Bob Thornton (m.2000, div.2003), and Brad Pitt (m.2014, div.2019)
Children: Maddox Jolie-Pitt, Pax Jolie-Pitt, Zahara Jolie-Pitt, Shiloh Jolie-Pitt, Knox Jolie-Pitt, and Vivienne Jolie-Pitt
Angelina Jolie Profile on Social Media
Instagram: @angelinajolie
Twitter: @joliestweet
Angelina Jolie Education/Qualification
School: William O. Schaefer School, Tappan, New York, and Beverly Hills High School, Beverly Hills, California
College: Lee Strasberg Theatre Institute
ALSO READ: Eva Mendes Biography